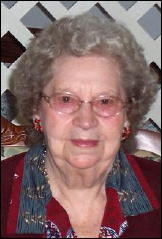 Verda "Verdie" Bush, 88, of Millstone, West Virginia, passed away peacefully August 4, 2010 at Roane General Hospital in Spencer, WV.

She was born October 17, 1921 at Elana, WV, the daughter of the late R.B. and Alice Griffin. She was raised in the family's one room log house at Cottrell Town near Oka.

A young man named Paul "Pete" Bush began his teaching career in the one room schools in the southern end of Calhoun County in the mid to late 1930's and boarded with the family in their shop above the cellar house. They were married November 1, 1941. Pete preceded her in death May 23, 2002.

She worked in a factory for a time during World War II. They settled at their residence in Millstone in the early 1950's and enjoyed raising Christmas trees. She was deeply involved in all the family gatherings, tirelessly cooking, baking, and doing whatever it took to spoil the nieces and nephews.

Verda was a homemaker and was active in various community organizations. She was a member of the West Fork Community Action, Albert's Chapel United Methodist Church, Arnoldsburg Homemaker's club, West Virginia Molasses Festival Association. She also supported the Arnoldsburg School PTO and 4-H Club.

She is survived by three brothers, Ralph Griffin of Burning Springs WV, Glenn Griffin of Manchester Ohio, and Buford Griffin of Canal Fulton Ohio; two sisters, Donna Chambers of Jeffersonville Indiana, and Eloise Wayne of Louisville Kentucky; and several nieces and nephews.

Funeral services will be held 1 p.m. Saturday, August 7 at Stump Funeral Home, Arnoldsburg WV, with Rev. Carl Marks officiating. Interment will be in the Sand Ridge Cemetery.

Visitation will be from 6 to 8 p.m. Friday at the funeral home.