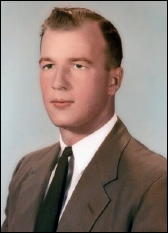 Paul Downs Stalnaker, 80, of Millstone, West Virginia, died Sunday, July 4, 2010, after a long and courageous battle with cancer.

Paul was born on March 28, 1930, at Orma in Calhoun County, to the late Fenton R. and Opal Downs Stalnaker. He was a 1946 graduate of Calhoun County High School and a 1956 graduate of Glenville State College. In 1982, Paul retired after nearly 38 years of public school teaching. He began his teaching career at the age of 17 at the one room school on Matheny Ridge in southern Calhoun County. After several years teaching in various one room schools, Paul taught at Minnora Elementary and then Calhoun High. During the years of 1960 -1966, he taught in northeastern Ohio, but returned to the hills and the people he loved to complete his life's work.

Paul was a loving husband and father with a quick wit, a respect for others and a love of his country. His priorities were clear: his wife and family, educating young people, and the hills and hollows of WV. He was an excellent hunter and trout fisherman. He was a carpenter, a farmer, a logger, a story-teller and above all, a master math teacher.

Surviving are his wife of 59 years Lenell Faith McKee Stalnaker and their two children; daughter Pamela and husband Robert Breese of Millstone and son Stephen Stalnaker and wife Rebecca of Arnoldsburg. His three granddaughters were the lights of his life… Meredith Bartlett and husband Brian Henthorn of Grapevine, Texas; Candace Stalnaker and husband Jamie DeWeese of Walton WV; and, Christy Stalnaker, who recently returned from a tour of duty in Iraq.

Also left to mourn his passing are three sisters; Glenna Fleming of Arnoldsburg WV, Emma Lou Chenoweth of Ravenna, Ohio, and Orma Florence (Tootsie) Downs of Southington, Ohio; four brothers-in-law and three sisters-in-law, twenty-four nephews and nieces, and several great and great-great nieces and nephews.

In addition to his parents, he was preceded in death by brothers, William Harley Stalnaker and Marvin Fenton Stalnaker and sister, Wanda Lee Stalnaker White and a grandson, Benjamin Ryan Bartlett.

Funeral services will be conducted at 2:30 p.m. Thursday, July 8, 2010 at Stump Funeral Home in Arnoldsburg with Rev. Tim Davis officiating.

Friends may call from 10:00 a.m. to 2:00 p.m. on Thursday prior to services.