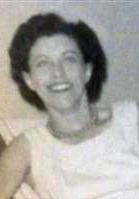 Eula B. Smith Allen, 84, of Clarington, Ohio passed away Wednesday, June 30, 2010 in Muskingum Valley Nursing and Rehab Center, Beverly, Ohio.

She was born November 7, 1925 in Grantsville, WV, a daughter of the late Ruby and Ona Roberts Smith. A petite woman with a huge spirit, Eula was strong and self-determined, loved equally as well by her family and all those who knew her. With a dazzling smile and pale blue eyes, she could talk to anyone she met, openly and honestly.

Eula was one of several telephone operators that operated the crank'em up Hur telephone exchange during the 20th century.

Eula was preceded in death by her husband of 50 years, Averill "A C" Allen, on March 21, 2010, an infant son, Richard Aden Parker; also by her siblings, Glendle, Denzil, Aden, Beulah, and Betty. She and her husband, had lived and reared their family near Clarington since 1961.

Surviving are five children, R. Michael (Betsy) Parker of Barnesville, Sharon (Ronald) Randolph, of Naperville, IL, Beverly (Eric) Zimmer of Marietta, Deborah (Charles) Myers of Beallsville, and Thomas Allen and partner, Earnest Rubio, of Denver, CO.

Twelve grandchildren, Michele Velas, Nicole and Ian Randolph, Dana, Adam, and Nathan Kinzy, Taylor, Morgan, Jaclyn, Tucker, and Sophia Myers; nine great-grandchildren, Megan and Thaddeus Velas, Jordan Randolph, Loralai, Montana, Austen, Jack, and Ruby Kinzy, and Wendy Engelhardt; three brothers, Dale Smith, Franklin Smith, and Don Smith; two sisters, Bonnie Byrd and Freda White Cotton; special friends, Terri Milosavljevic, and Brent and Kim Tisher whom she loved as her own children.

Visitation will be Friday from 2 p.m. until the time of the funeral service at 5 p.m. at the Harper Funeral Home, Beallsville.

Burial will be Saturday at 1 p.m. at the Smith Family Cemetery near Hur, WV.