Jack Hardway was Roane and Calhoun's version of Boone County native Jesco White, known as the "Dancing Outlaw."
White was made famous on a TV series titled "Different Drummers," revealing his many encounters with law enforcement, his problems with alcohol and drugs and his relationship with community members.
Of all the drug busts in the area, only Hardway made the national news, not for drugs, but for a technicality involving possession of firearms. He served time in a federal prison.
Hardway, 69, of Orchard Run, died suddenly at home of a heart attack on June 1.
Maggie Volkwein is writing about a number of characters who have lived in the deep woods of Orchard Run, with Hardway being one of her subjects.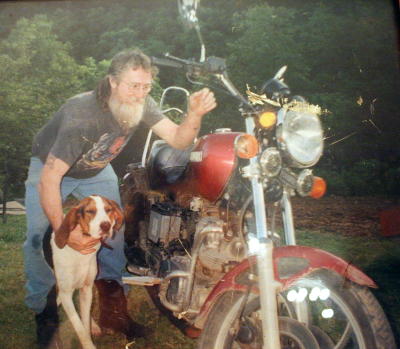 Jack, his dog and his Harley
THE LIFE AND TIMES OF JACK HARDWAY
Margaret Smith Volkwein © 2010
The first time I met Jack Hardway, he told me, "My door is always open to a stranger." He paused. "But I never met a stranger, 'cause after you get to know 'em, they ain't no strangers!"
Jack, the wild man, was a legend in his time. He could out-jump, out-shoot, out-brag, tell more stories, drink more whiskey, and dance with more pretty girls than anyone since Mike Fink, the keel-boatman in pioneer times.
Jack's dad was in the Army, and when Donald and Bonnie Hardway got married, she went with him wherever he was stationed. They had Jackie Lee Hardway on July 17, 1943, in Kansas. They moved to southern Calhoun, into a gingerbread house with double porches built by Jack's dad for his wife.
Donald Hardway tore off the pretty woodwork and reduced it to a modern two story with one porch. On this Walnut Road hill farm, they raised their kids.
Donald drove a Calhoun County school bus for 28 years and raised cows. Jack and his sister Janice gave their dad a hand in the hayfields, the vegetable garden and the corn patch.
The Hardway family originally came from England.
Jack tried to get in the Army but they found his eyesight and feet not in good enough shape. His brother Denzil Darris Hardway passed, and went off to Korea.
Jack married the lovely Violet Gay Perry and they had five children. Jackie Lee "Punkin" Hardway, who had one daughter, Sarah; Leonard Edward Hardway, who had two boys, Dustin Edward and Justin Lee (and another one on the way); Brenda May Cline, who had three girls, Kayla Danielle, Tara Joelle, and Maya Noelle; Donald Garry Hardway; and April Gay Hardway, who had Brianna Violet Hardway.
Janice, Jack's youngest sister, recalled working on the family farm. At four years of age, Janice was put to work in the hayfields, walking the haystack. On the dome-shaped mound of hay, a lightweight person was supposed to tread down the top of the hay to pack it down so it would hold its shape and water would run off.
At five, Jack taught his little sister how to handle a rifle and shoot, until his mother found out.
We were late getting to the funeral because, in true Jack fashion, we stopped to help somebody out. The preacher was starting out with his opening prayer while a little blond moppet was playing peek-a-boo behind a heavy pale gold brocade curtain.
The preacher said he had been friends with Jack's oldest son Punkin, who died a few years back, and that Jack used to shop at the preacher's mom's store in Arnoldsburg.
"Bought a car off of Jack, and it was a pretty good car," he said.
"Jack was a giver and he was a happy person," after which a woman broke into heavy sobs and another woman went across the room to hold her in her arms.
The service was over, and the whispered condolences were broken by the little blond moppet, who climbed into her mommy's lap.
"Where's Uncle Jack gone?" she asked. "He's gone to heaven," mommy replied.
Once, someone asked Jack why he lived his wild mountain man lifestyle. "I gotta have a little heaven sometime, here in this life," he replied.
We took the long bumpy road to Orchard Run, Jack's home, passing by the river crossing to Island Run. Thirty years before, Jack told me that he always crossed the river alone.
We arrived at the "Palace of Peace," with the scent of cooking honeysuckle flowers. The bay of dogs filled the air as the crowd gathered to talk about Jack.
"His door was always open," a man said.
"He mowed the grass in the dark," his daughter's best friend said.
"He was a friend to many, an enemy to none."
"You couldn't ask for any better," added someone.
An old man with one crutch told me he had been friends with Jack for forty-five years. "Jack was an individual to himself," he said.
"Jack never said anything bad about anybody. He had a sense of humor that wouldn't quit, and he lived for his good times."
I saw the place where he taught his daughter to drive his van [she ran over a small tree, now large.] I looked at the orchard, loaded with half ripe peaches.
I saw the place where Jack had been cutting brush with his girlfriend, who couldn't get to the big trunk of the multiflora rose with her loppers.
Jack had thrown himself on the big thorny bush, shouting, "Hurry up and cut it off, this rosebush is about to eat me up!" The rosebush is sprouting back.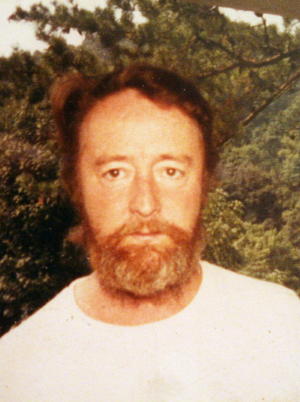 Jack in younger days
A neighbor told me that Jack always said, "If you go hungry here, it's you're own fault."
I recalled many times when what I ate at Jack's was my only meal of the day. Other people around me nodded their heads.
"He loved to garden," someone said. A neat garden, with tomatoes and beans and sweet corn surrounded by a deer fence sat near the big pine tree in the yard.
"He loved Vienna sausages," someone else said.
"I didn't have to wear a mask with Jack. I didn't have to pretend anything," said another.
"He was easy to talk to, a good listener," and everyone agreed.
One woman said thoughtfully, "Jack told me that I could do anything I wanted to do."
He had a sense of humor that wouldn't quit. Stale knock-knock jokes. Elaborately planned practical jokes. Funny stories about hunting and hunting dogs. Work anecdotes from his long years at the Monarch Rubber plant in Spencer.
I took my leave from the gathering, leaving to strangers, people I had never met and people I had known thirty years.
I drove out Orchard Run, passing the fishers at the bridge, and on up Pink Road.
The sky was still burning hot and big thunderheads piled up making sun rays. It rained, but the sun was still shining. The flowery river meadows misted where the cool rain fell on the hot ground.
I stopped at the river crossing to Island Run to drop in a dark hole, remembering that Jack said this is the river crossing he always made alone.