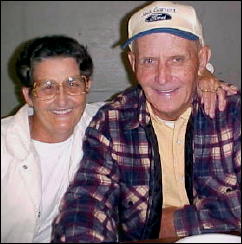 Gale Tanner and wife Frances celebrating
their 50th wedding anniversary in 2005
Gale Tanner, 79, of Arnoldsburg, West Virginia, died May 3, 2010 at Ruby Memorial Hospital in Morgantown WV after a short illness.
He was born December 1, 1930 at Rocksdale WV a son of the late James Albert and Mary Jane Roach Tanner.
He was retired from Quaker State Oil Company, he was a former oil field worker, worked at Monarch Rubber Company, and worked for 16 years at PPG in Barberton, Ohio.
He enjoyed hunting and gardening, was a veteran of the US Army, serving during the Korean War. He was a member of the American Legion, and was Commander of VFW Post 5959 in Grantsville, West Virginia for eight years.
He is survived by his wife of 55 years, Frances L. Ash Tanner; four daughters, Kathy Tanner of Sand Ridge WV, Veronica May of Arnoldsburg, Joyce Crouser of Selma NC, and Kimberly Tanner of OK; six sons, Howard Tanner of Akron OH, James and Kevin D. Tanner both of Ravenswood WV, Michael tanner of Princeton NC, Kevin G. Tanner of Arnoldsburg, and Keith Tanner of Smithfield NC; and several grandchildren, great grandchildren and Great-Great grandchildren.
In addition to his parents he was preceded in death by a son, Denver D. Tanner; a granddaughter, Samantha Pierson; and three sisters, Dessell Wright, Eula Carpenter, and Susanna Stevens.
Services will be held 1 p.m. Saturday, May 8 at the Taylor-Vandale Funeral Home in Spencer WV with Rev. Rick Matheney officiating. Burial with military graveside rites will be in the Tanner Family Cemetery near Arnoldsburg.
Visiting hours are Friday, May 7 from 6 to 8 p.m. at the funeral home.