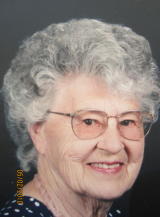 Katie Elizabeth Smith was born September 25, 1920, in Amma, West Virginia, and died May 1, 2010, in Harrisonburg, Virginia. Her parents were Aljournen William and Linnie Carper Vineyard.

She was the second oldest of five sisters and has been preceded in death by Frankie Jane Conley, Lillie Mae Hendrickson, and Monsa Jean Kincaid. She is survived by her youngest sister, Georgia Madeline Hershberger of Denver, Colorado.

She met and married her lifetime companion, Isaac Brooks Smith (deceased 2006) in 1940. Katie and Brooks were parents to three surviving children, Dr. Dennie (Lana) Smith, a professor and department head at Texas A&M University; Dr. Randy (Debbie) Smith, a dentist in the Ripley/Charleston area, and Dr. Nina Smith, a physician in Harrisonburg, Virginia. They had two children, Timothy and Katherine, who died at birth.

Katie had nine grandchildren and twelve great-grandchildren whom she loved, nurtured and adored. Grandchildren, Chad, Niki, and Shannon (Dennie); Raigan, Brooke, and Carrie (Randy); Matthew, Nathan and Katie (Nina); great-grandchildren: Zachery, Devon, Riley, Tess and Tabitha (Dennie and Lana); Ashtyn, Kaitlyn, Christopher, Deven, Greyson, Olivia and Savanna (Randy and Debbie).

Katie graduated from Spencer High School in 1938 and after a year at Glenville State Teachers College, she began her career teaching in a one-room school in Roane County. She continued her education at Morris Harvey College, earning her Master's degree from West Virginia University when she was 40 years old. Other than Roane County, she had teaching positions in Clay County, Jackson County and Mason County. She retired in 1980 with 28 years of service.

Katie will be remembered by her family, friends and students as a loving and devoted mother, grandmother and aunt, a loyal friend who had an easy laugh, and a favorite teacher to many students.

Services will be held at the Newton Baptist Church, Newton, West Virginia, on Saturday, May 8, 2010. There will be a remembrance hour beginning at 1:00 p.m. with the funeral services to begin at 2:00 p.m. Burial will immediately follow at the Smith Cemetery.

Arrangements have been entrusted to the care of the John H. Taylor Funeral Home, Spencer, West Virginia.