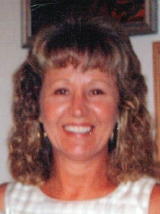 Barbara Ann McCroskey, 49, of Walton, West Virginia, died Saturday, April 24, 2010, in Roane General Hospital, Spencer, WV.

She was born November 24, 1960, in Spencer, a daughter of the late Robert Wyatt and Lavis Irene Wright Greathouse. She was an employee of Walmart and was a member of the Church of the Living God, Spencer.

Survivors include her husband, Jeff McCroskey; sons, Jeremiah O'Brien of Nashville, Tennessee, and Jesse O'Brien of Spencer; seven grandchildren; three sisters, Kathy Clegg of Akron, Ohio, Pam Carpenter of Spencer, and Mary Hull of Louisiana; three brothers, Roger Greathouse and James Greathouse, both of Akron, Ohio, and Robert Greathouse of Florida.

A funeral service will be conducted Thursday, April 29, 2010, at 11:00 a.m. in the John H. Taylor Funeral Home, Spencer, with the Rev. Clarence McKown officiating. Burial will be in the Mt. Zion Cemetery, Gay, WV.

Friends may call at the funeral home from 6-8 p.m. Wednesday.