Mountain woman Emma Metz died during the great snowstorm of December, 2009. Often written about on the Hur Herald, her "Back of Beyond" memories are fast fading. I recall her life at Christmas, having taking her some Christmas treats, she humbly gave me an artifact to take home with me. - Bob Weaver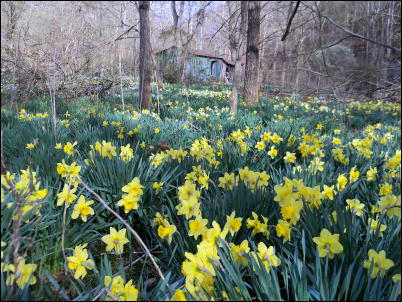 Emma's original cabin surrounded by field of flowers
By Bob Weaver
As Easter Sunday approaches, Emma Metz's large field of daffodils are blooming on the Right Fork of Crummies Creek,, several varieties of brilliant yellows and austere whites.
Emma, a Calhoun original, died December, 2009, after a long life of keeping to herself and fiercely living an independent life of self-sufficiency.
Two of her tiny abodes stand in the middle of the glowing flowers, attracting the attention of infrequent travelers along the backwoods creek.
Her original abode is falling down.
She was proud of her flowers, and often gave starts to folks that she appreciated.
Others would not merit the gesture.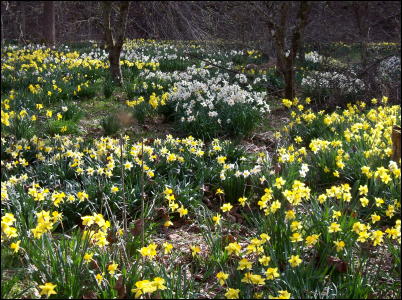 Emma's legacy in the narrow holler,
hundreds and hundreds of daffodils
Neighbor Russ Richardson said he misses the mountain woman, who sometimes would come to the road and flag him down for "an aspirin or a match," not a quantity, but a single aspirin or a single match.
Such practice would affirm her basic philosophy, "If You Don't Need It, You Shouldn't Have It."
The sun was shining brightly on her field this week, her presence still felt wandering through the rows with her cane, followed by her dog and cat, admiring each variety.
Many years ago, following some hesitation over accepting my presence, she dug her fingers deep into the sod around some flowers, pulled them up and wrapped them in a soaked newspaper.
The daffodils are blooming brightly, as the memory of her life fades quickly into time.
EMMA'S ELEGY - "If You Don't Need It, You Shouldn't Have It"
EMMA'S FIELD OF FLOWERS - Back Of Beyond
A RETURN TO EMMA'S FIELDS - Fritters, Flowers And Poems