Kenneth "Pap" Mowrey 56, of Creston West Virginia, passed away March 31, 2010 at St. Joesph's Hospital in Parkersburg.

He was born in Creston, the son of the late Phillip Mowrey and Frankie Connolly Mowrey. He was a 1972 graduate of Calhoun County High School. He retired from Amos after 30 years of service. After retirement he owned his own heating and air conditioning business. Ken was an avid hunter, enjoyed spending time with his family, hunting buddies and the yearly hunting trip to Lone Cove Mountains in Colorado. He was a member of the Turkey Run Hunt Club.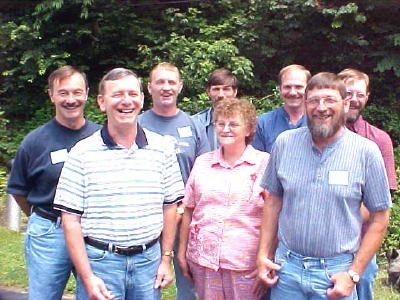 Ken, his mother and six of his 7 brothers -
Front (L-R) Glen, mother Frankie and Tom
Back (L-R) Steve, Ken, Danny, Jim and Ron
In addition to his mother he is survived by his loving wife of 37 years, Wilma Garrett Mowrey; 2 beautiful daughters, Angie (Kevin) Somerville of Slate WV; Kim (Aaron) Shahan of Creston; 2 granddaughters, Logan and Lauren Somerville of Slate; 8 brothers, Glen (Pat) Mowrey of Graham NC, Steve Mowrey of Whippel Ohio, Tom (Trish) Mowrey, Jim (Regina) Mowrey, Danny (Ola) Mowrey all of Creston; Ron (Norma) Mowrey of Arnoldsburg WV, Richard (Scarlet) Mowrey of Powells Point NC, and Ray (Sheila) Boggs of Mineral Wells WV; 2 special cousins Lanny and Jerry Meadows of Creston; several nieces and nephews.
Ken will be dearly missed by his family and his hunting buddies.
In addition to his father he was preceded in death by one sister-in-law, Hilda Boggs and 1 nephew, Kenny Boggs.
Services will be 2 p.m. Saturday April 3 at Matheny Whited Funeral Home of Elizabeth, WV with the Rev. Danny McVey and the Rev. Delmas Stutler officiating. Interment will be at Snyder Cemetery in Calhoun County
Visitation will be Friday April 2nd from 2-4 and 6-8 p.m. and from 9 a.m. until time of the service on Saturday.