By Bob Weaver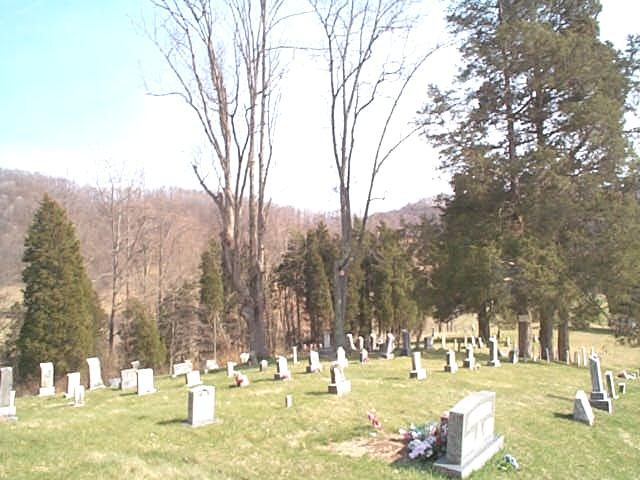 Most of Cottrell Town's residents now reside at Cottrell Cemetery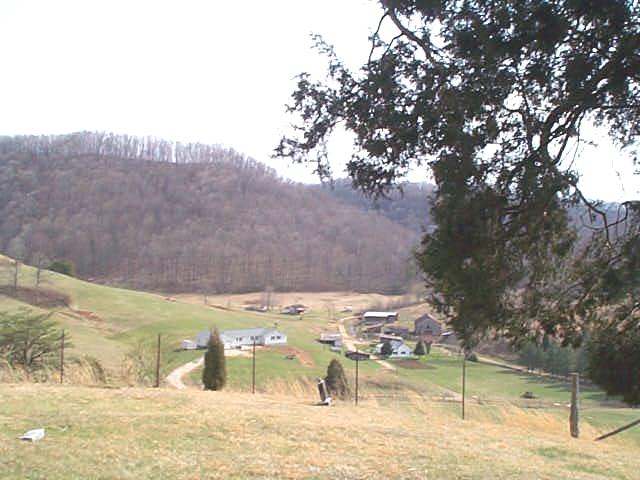 Cottrell Town was at end of hollow
More than 75 people once lived in Cottrell Town, a remote village at the head of Beech Fork, above Oka, Washington District. Anderson Cottrell was among the first settlers with 1000 acres of land in the 19th century.
Most of the Cottrell Town land touches the Roane County line, with Uler, Elana, Hollywood, Newton and Tariff just over the mountain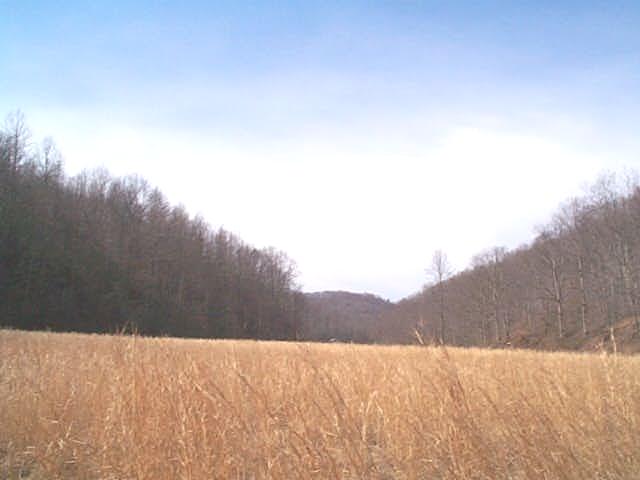 A field of broom sage above Oka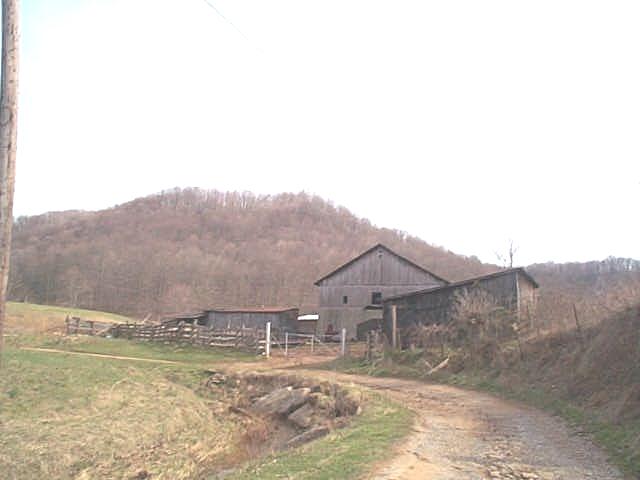 Paris Cottrell still holding on to farm at Cottrell Town
Former William Cottrell farm
Cottrell and his wife Edith had a large number of children, including Albin, Alice, Eldridge, Debora, John, Josephine, Sabra, Elliott, and possibly others. He divided his large farm to his children.
"My dad died in 1971," said Paris Cottrell (now deceased), who lived on the original Cottrell farm. "We had a great life here. I've been here most of mine," he said. Paris Cottrell retired from the Union Carbide plant at Alloy a few years ago. Despite health problems, he still farms.
He said "This was quite a place back in this holler. Most of them are up on the hill now (referring to the Cottrell Cemetery)."
Cottrell Town and Oka had their own store and post office operated by Loyd Davison, next door to the Oka Church.
Once living in the hollow on the unimproved dead-end road, beyond the current Paris Cottrell farm, you could find Ben Cottrell, Senate Mullins, Fred Simons, Fred McClain, John Cottrell. Marshall Murphy, James Boatright, Cal Truman and Cyrus Jarvis, among others.
"Up the old road toward Uler (in Roane County) lived Phillip Cottrell, Bee Griffin and Cal Truman," said Paris Cottrell. "Vade Jarvis lived here too."
The William Cottrell place, next door to Paris Cottrell, is now owned by a New Jersey resident.
Like many other farm communities in rural Calhoun, only a handful have stuck close to the land.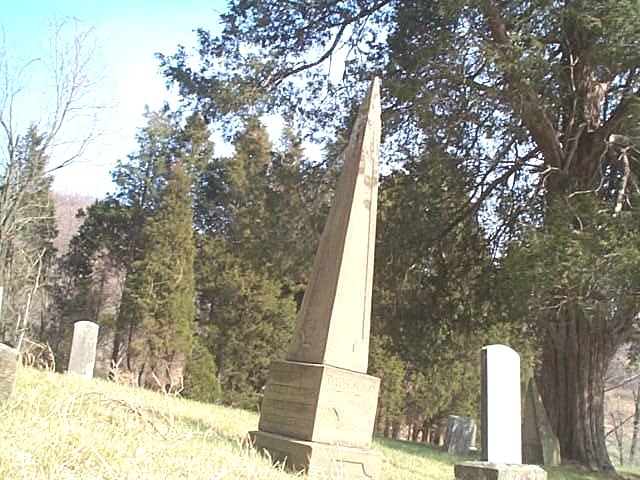 Epitaph reads A. G. Cottrell, a student of Ripley Normal 1898-1914", with another epitaph reading "Silas Cottrell 1807-1886, a pioneer, good husband, lover and defender of his country. In the day of my trouble, I sought the Lord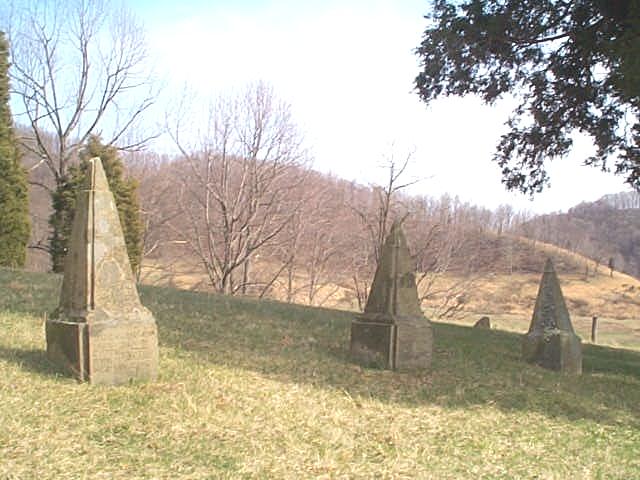 Tombstones for children of Silas Cottrell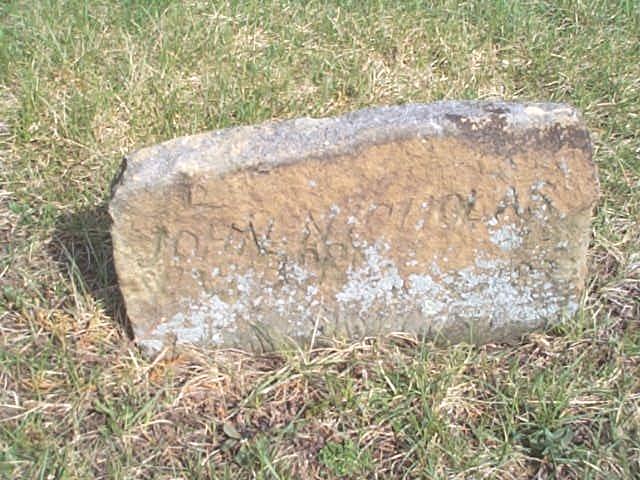 Sandstone rock with inscription,
John Nicholas 1833-1873, from Lewis County
BLOOD IN THE AIR AT COTTRELL TOWN - 1894 Newspaper Account
On Sunday the 5th inst., as the good people of Upper Beech were repairing to their several abodes on their way from Sabbath School at Oka, they were the witnesses of an affray in which Brown Hicks, Stella Hicks, Levi Cottrell, son of Rev. Wm. P. Cottrell and Wm. Truman, Jr. were principals.
Young Cottrell and Truman it seems were taking turn about paying their respects and making love to said Hicks' wife, to which Hicks demurred, which was tauntingly ignored by Cottrell and Truman, upon which Hicks emphasized his demur by giving vent to his feelings with a "darnick" at the butt of Cottrell's ear with all the force he could summons.
He then wound up by firing a couple of shots from a revolver at the crowd, from appearances not caring who he hit, which fortunately injured no one, but gave the boys to understand when he said hands off that they had better take the hint.
2003