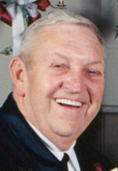 James "Jim" Edward Farrar, 73, of Oswego, Illinois, passed away Monday, March 15, 2010, peacefully at his home surrounded by his family.

He was born March 3, 1937, in Parkersburg, WV, a son of the late Wade and Pauline Metz Farrar. He spent the majority of his childhood in Calhoun County, WV, where he developed a love of fast cars and diesel trucks. He pursued this love by devoting the majority of his life to working in the trucking industry, both as driver and general manager. He loved attending and participating in car shows with his sons and brother, and won a multitude of awards for his "attention to detail."

He was united in marriage to Marilyn Flanagan on November 6, 1972. They began their marriage in WV, moving to Illinois in 1973, where they spent the majority of their life together. Jim's love for his fellow man and family knew no bounds. He always looked out for those most in need, often anonymously helping others. Our lives will never be the same without his presence, his love and his devotion to his family.

He is survived by his wife of 37 years, Marilyn Flanagan Farrar; daughters Kathy (Michael) Green of Plainfield, IL, Shari Salvatore of Parkersburg, WV; sons, Christopher (Kate) Farrar of Oswego, IL, Ron Farrar of Vienna, WV and Dennis (Rissa) Farrar of Marietta, OH; two sisters, Betty Farrar of Glenville, WV, and Karen Mace of Chloe, WV; 10 grandchildren and one great-granddaughter; one niece and two nephews.

He was preceded in death by one brother, William "Bill" Farrar.

Visitation will be Saturday, March 20, 2010 from 11:00 a.m.-1:00 p.m., followed by a memorial service at 1:00 p.m. at the Church of the Good Shepherd, 5 West Washington Street, Oswego, IL with the Rev. Phil Sheets and Dr. Randall Flanagan officiating. In lieu of flowers, donations may be made to VITAS Hospice Care, 3303 West Jefferson, Suite 204, Joliet, IL 60435.