A photo book, a pictorial history of Wirt County was released in 2011.
"Images of America: Wirt County" was compiled by Wirt resident Richard T. Lowe, who has assembled a running history that tells the story of the county and its people.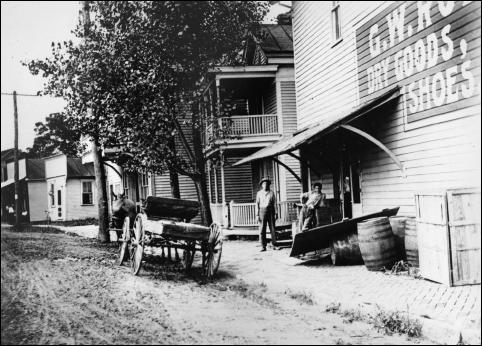 This early photograph shows a horse and wagon
waiting outside of the G.W. Roberts Store on Juliana
Street in Elizabeth. (Courtesy of Susan Kirby)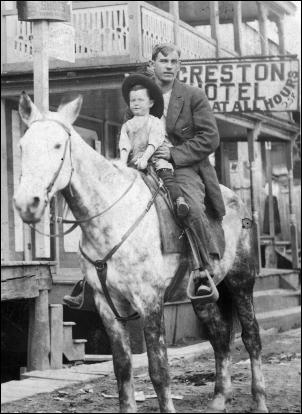 Lloyd Gibson (the child) is photographed on a horse in front
of the Stevens Hotel prior to the 1917 fire that destroyed nearly
the entire village of Creston. The Stevens Hotel, operated by Capt.
and Mrs. Henry Stevens, burned to the ground when a gas jet ignited
a fire in an upstairs bedroom. (Courtesy of Sherry R. Smith)
Lowe says the archival photographs are highlights of a place he will forever call home.
Photos are under chapters covering the early years of the county, religion, farming, communities, business and fires and floods.
The book honors the stalwart settlers who settled along the Little Kanawha River, their rising up as families of the sod.
ORDERING: Wirt County $21.99, Arcadia Publishing.
Available at local retailers, online bookstores or through
Arcadia Publishing at www.arcadiapublishing.com  or 888-313-2665.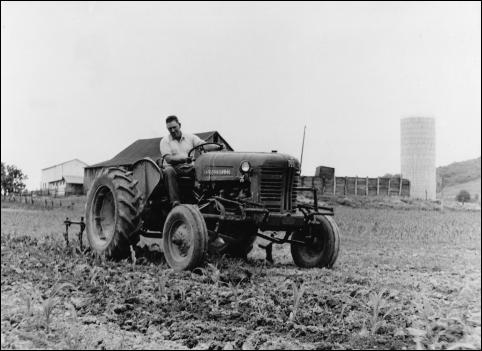 Clyde Cale tends the grounds of the Cale Dairy Farm on
his International Harvester. (Courtesy of Ann Cale Boyce)