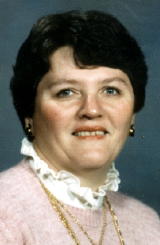 Donna K. Talkington Brannon, loving wife, mother, and grandmother stepped into heaven February 2, 2010 at 11:40 p.m. at home, surrounded by family and friends following complications from a liver transplant.

Donna was born January 8, 1947, a daughter of the late C. Cloyd and E. Louise Ellifritt Talkington. She was a graduate of Normantown High School class of 1964. She was also a graduate of Glenville State College earning a Bachelor of Arts in education. Donna was employed by Calhoun County Board of Education for 30 years at Arnoldsburg Elementary School. Where she was a 2nd grade teacher until her retirement in June 2002.

She was a member of the Little Kanawha Independent Church in Burnsville where she worshiped with many wonderful friends each Sunday, prior to her illness. On July 17, 2009, Donna received a liver transplant at UPMC in Pittsburgh, Pennsylvania. Following a long and extensive recovery, she returned home October 1, 2009. A few days after, a benefit dinner was hosted by high school classmates and lifelong friends in her honor. Those who had the privilege of knowing Donna, knew of her love of God and family. She always thought of others before herself, even until her last moments. Her faith, courage, and strength were an example and inspiration to all.

Donna is survived by her devoted husband and caregiver, John R. Brannon of Normantown; her eldest daughter Stacy D. Davis and husband Wes of Hurricane, WV; her youngest daughter and faithful caregiver Karrie B. Jack and husband Bernie of Slaty Fork WV. She had 3 adoring grandchildren, Jacob Matthew Davis, Sarah Catherine Davis, and Katie Elizabeth Jack. She also had 1 brother, Gary L. Talkington of Greenwood WV.

The family would like to thank family and friends who provided love and support during her final days and hours. The family is most grateful for Hospice nurses Misty, Eunice, and Heather who provided quality and compassionate care.

Funeral Services will be conducted at 11:00 a.m. Saturday, February 6 at the Ellyson Mortuary Inc. with Rev. Ronzel Roberts officiating. Burial will follow in the Cedarville Cemetery, Cedarville WV.

Friends may call from 6-9 p.m. Friday evening at the mortuary. Flowers are appreciated but the family request memorial contributions be made to the Hospice Care, P. O. Box 323, Burnsville WV 26335.

Ellyson Mortuary Inc. is assisting the family of Donna Kay Brannon with arrangements.