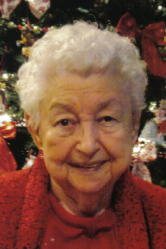 Louisa Yearian, age 80, of West Chester, Pennsylvania, died Tuesday, January 12, 2010.

Born March 22, 1929, in Orma, West Virginia, she was the daughter of the late Aristotle and Mary Cottrell Butler.

A homemaker, Mrs. Yearian loved being with her family and enjoyed reading her Bible.

Survivors include her children, Donna Smith and husband, Butch, Connie Blackwell and husband, Bob, Kathie Brogan, Mike Yearian and wife, Denise, Claudette Cox, C.J. Yearian and wife, Julia, and Vickie Buckalew and husband, Chuck; siblings, Macel Carpenter, Nina Conley, Tom, Charlie and Milton Butler; 14 grandchildren; and 11 great grandchildren.

In addition to her parents, she was preceded in death by her children, Marcy Adamcewicz and Neal Yearian.

Funeral service will be held 11 a.m., Monday, January 18, 2010, at Orma Methodist Church, Orma WV.

Visitation will begin at 10 a.m. Interment will follow in Orma Methodist Church Cemetery.

Arrangements by Hicks Home for Funerals, P.A. Elkton, MD.