By Bob Weaver 2002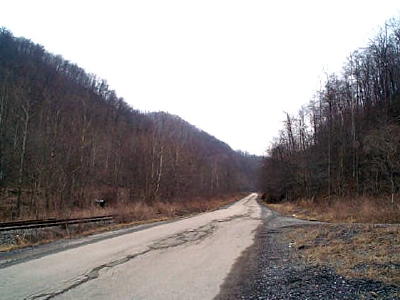 In 1972 a 30-foot wall of water roared down 14-mile long Buffalo Creek, after the collapse of Pittston Coal's sludge dams.
I returned for the first time in 30 years, accompanied by Dave Peyton, long-time West Virginia newspaper columnist, currently writing for The Charleston Daily Mail.
In '72 he was there covering the story as a reporter. I was
there as a mortician, helping prepare the dead for burial.
Most religions teach to turn the other cheek and seek to forgive those who have trespassed.
Those teachings may be the saving grace of our mountain people to remove prolonged suffering from tragic events, even those caused by power and greed.
Those teachings may also be our curse, allowing the same tragic events to occur, again and again.
It was that tone of Christian charity inside the Saunders Memorial Free Will Baptist Church in Logan County during a 30th year memorial service for the victims of the Buffalo Creek disaster.
Few survivors or family members spoke of what caused it to happen, but chose to quietly recall the lives of their loved ones.
Organized religion finds it difficult to lash out against economic injustice, government corruption or corporate greed, preferring instead to rail against personal habits and choices.
Tangling with the money changers can become serious business.
The choir sang "Amazing Grace" and the pastor Paul Rhodes read from Ecclesiastes: To everything there is a season, and a time for every purpose under the heaven...A time to kill and a time to heal, a time to break down and a time to build up.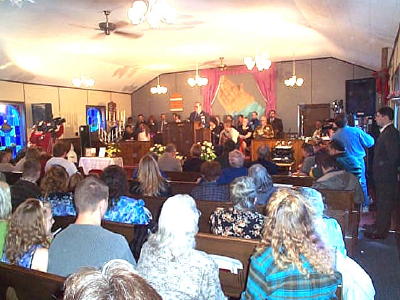 Pastor Rhodes reads from scripture and survivors
come forward to remember their family and friends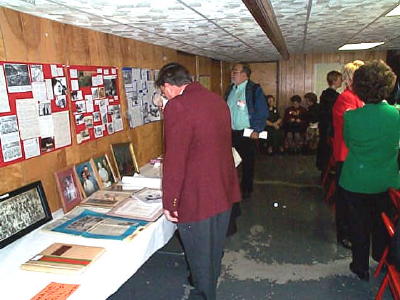 Family members and visitors view flood memorabilia
Sitting in the pew with Peyton, my mind turned to a word I first remember hearing in the McNeely Funeral Home in Man, those years ago.
Helping deliver the embalmed bodies of some of the victims to the funeral home, I talked with an elderly woman, there to make arrangements for her granddaughter. Struggling for something to say, I asked "Why did this happen?"
She tearfully replied "Avarice, avarice."
When I got home, I looked up the word to discover it was a synonym for greed.
David Hume called it "The spur of industry" and Samuel Johnson said it was "The last corruption of degenerate man."
The bible speaks often of greed, its ravenous and predatory nature.
Politicos often rail against their opponents about greed and abuse of power, rarely holding themselves accountable.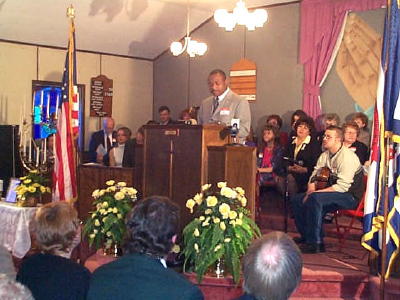 Former House of Delegates member Arley Johnson, a community
member, in a forthright way reminded those attending the causes of the tragedy
Avarice is why 125 men, woman and children, mostly children, died that day in 1972 when Pittston's sludge dams collapsed, injuring 1,100, sending a wall of millions of gallons of black water down the valley.
It is why 16 communities vanished, with 1000 homes destroyed and 4000 human beings left homeless.
When Pittston Coal Company was questioned about responsibility, they said it was an "act of God."
Officials of West Virginia's government were quick to agree, and Gov. Arch Moore quickly rose to defend the coal interests.
A $100 million clean-up bill against Pittson for damages was settled by Moore three days before he left office for $1 million, the sufferers and the taxpayers picked up the rest.
The "act of God" defense continues to be used to defend corporate disasters, decade after decade.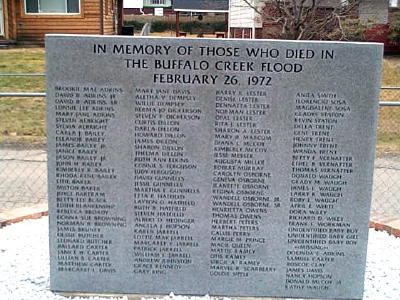 The names of the dead remind motorists who travel up the hollow
When Peyton wrote his column a few days after the 30th anniversary of the event, he said, "Sometimes the voice in my head tells me to give it a rest. Forget about Buffalo Creek."
I know why he can't.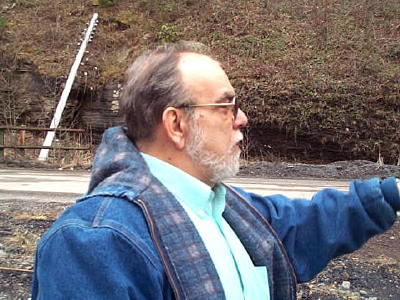 Dave Peyton says the event changed his life forever
Avarice is alive and well in the Mountain State, most of its' citizens have long accepted their powerlessness, giving the state their political support anyway.
A while back a Massey coal sludge dam on the Kentucky-West Virginia border gave way, sending 300 million gallons of dark, polluted water down the valley, following warnings about bad construction.
While it was declared as one of the worst pollution disasters in modern times, the company, while doing "clean up," wormed their way out of responsibility.
Massey's president Don Blankenship, who earned $20 million or more annually, the company being issued thousands of citations for a billion dollars which they did not pay, a cat and mouse game long played with enforcers.
They eventually settled for a few million.
The state's courts generally rule in King Coal's favor, despite being caught of wrongdoing.
Coal truck drivers and miners circled the State Capitol in protest of law enforcement enforcing weight limits on the hauling of coal, while the families of eleven victims killed by the overweight trucks cried out in anger at legislators and the West Virginia Coal Association.
Kanawha Delegate Jon Amores stood up for the "stakeholders" as if it was simply a business deal, with most legislators appearing oblivious to the value of human life. They wanted "negotiable terms."
Just consider the head-turning when trucks had been hauling more than double their weight limits for many years across the state's highways and low-rated bridges.
The State of WV quickly dealt with the problem.
They made overweight coal trucks legal.
Few have been willing to bear witness to the century-old conflict between government, men and mighty corporations.
Few history or civics students have heard of the tragic Battle of Blair Mountain, when the United States Army, at the request of state officials, encountered 10,000 unemployed pro-union coal miners with bombs, airplanes and poison gas.
Many died in the assault against miners who wanted better working conditions and a better life.
Denise Giardina, in her book "Storming Heaven," tells of that crucial battle, a war that has yet to be won.
Forget about Buffalo Creek?
It is difficult for me to resolve my experience with Christian charity, after staring in the muck-covered faces of lifeless children and their families those thirty-some years ago.
I am held hostage to the event.
Beyond the frequently read verses at the memorial service from Ecclesiastes about a time to die, Chapter 4 reads on, reflecting more about how I feel on my return to Buffalo Creek after 30 years:
So I returned, and considered all the oppressions that are done under the sun; and behold the tears of such as were oppressed, and they had no comforter; and on the side of their oppressors there was power; but they had no comforter.
Wherefore, I praised the dead which are already dead more than the living which are yet alive.
Yea, better is he than both they, which hath not yet been, who hath not seen the evil work that is done under the sun.
I bear witness with other West Virginians, unafraid of that evil at work and stand with those who seek to recall such deeds, desiring fairness and justice.
If only proclaiming on a street corner, I recall Buffalo Creek, even to the unwilling listener, remembering and recalling.
I will sing for those whose voices have long been muted.
See SUNNY CAL JOURNAL - 1972 Buffalo Creek: Lifeless Bodies, Moments Of Clarity And A Curse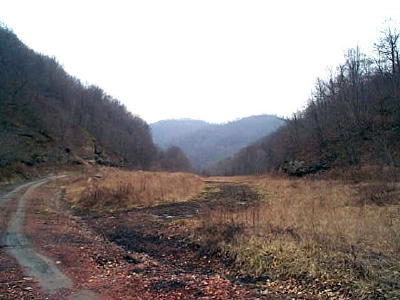 Site of Pittston's sludge dams, cited before disaster as being dangerous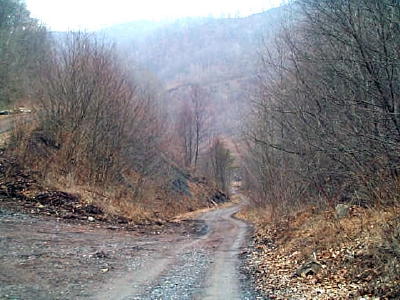 Water rushed down this narrow valley, quickly building pressure