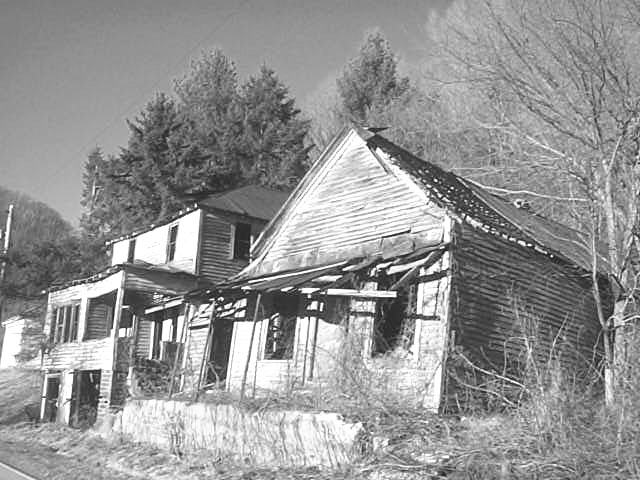 Old Bones
2002
We snapped this picture of this old store and accompanying residence along U.S. 33-119 in Lockney, Gilmer County. It is barely standing, recalling days gone by in the village built around a large compressor station, which is still operating.
The building is now gone.
Reader's responded with the following information.
As a child, my Dad, Park Woodyard, used to stop and "loaf" at this store in Lockney. It was owned by "Az" Collins. I don't know if that was his real name, or if it was short for Asberry or something like that. A Mr. Ores Collins, who was a relative to Az, had a store on up the road towards Normantown. He passed away recently in his 90's, but his widow Juanita, is still living - they had recently celebrated their 70th wedding anniversary...Helen Woodyard Clarksburg, WV
The picture of the old store brought back many memories. The man who owned it was O.A. Collins. I think his name was Oliver Asbury but was called Az by all who knew him. He married Ethel Rexroad and they had three children Two are deceased but his daughter Wanda lives in Parkersburg I grew up in Lockney. My father worked at the compressor station and we lived in one of the company houses up on the hill above the store. The store was a gathering point for the community. All the kids gathered there . That is where we caught the school bus every morning and where we got off each evening. I don't think Az ever turned anyone away who needed groceries. The store was open except when he locked it to go to his lunch and dinner. It did not matter how many people were there he asked them to the house for a meal His wife never knew how many she was cooking for but that big table was full of all kinds of food. I have so many wonderful memories of growing up in that community. It was a wonderful place to live...Glena Hardman Pitts, Grantsville, WV
I saw the picture of the old store in Lockney, WV. This store belonged to my Father-in-Law, Oliver Azz Collins. He was in the store for 62 years. He started at age 16, and had the store open until his death in l966. It was called O. A Collins General Store. He started in the business with his father, Issac Lonzo Collins. In later years Ores Collins, his nephew was in the business with him. I don't know what year this would have been. I have an old picture of the store taken many years ago of O. A. Collins and others sitting on the store porch. This was a very busy place for many years. This brings back many memories for me. Thank you so much for the picture...Eva Yoak Collins, Weston, WV