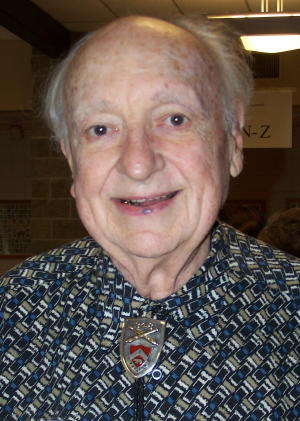 David Barr Hathaway 1924-2009
Hathaway Treasured His Roots: "We can only be
said to be alive in those moments when our hearts
are conscious of our treasures." — Thornton Wilder
By Bob Weaver 12/01/2009
David Barr Hathaway was a man connected to his roots, a man of many seasons and talents.
His roots were in Calhoun County, the bustling county seat of Grantsville in the 1920's through the 40's.
"Grantsville was the best place in the world in which to be born and become a young man," he said.
He treasured his years at Calhoun County High School, documenting the destruction of his alma mater by fire in 1942.
While long gone from the county, leaving to soldier in World War II, he was a Purple Heart recipient. He had a long-time career as an educator, returning to alumni reunions, frequently writing to the Hur Herald about his recollections.
A collection of his photos from his Calhoun days appear on the Herald.
David is among several old-time Calhouners that gave inspiration to photograph and write about life in this tiny spot of the world.
Thornton Wilder wrote, "There is a land of the living and a land of the dead, and the bridge is love."
David's love of life and place will remain.
He attended West Virginia University on the GI Bill, where he earned two bachelor's degrees and an MA before moving to Columbus Ohio in 1956 to work for the Franklin County Schools.
He served first as a school psychologist and later as Assistant Superintendent for Pupil Personnel Services, retiring after 31 years.
He was a lifetime member of Eureka Lodge AF&AM, Grantsville, WV, and Scottish Rite, Valley of Columbus.
A consummate musician, David led a dance band during his college years, and was later a member of the Humboldt Glee Club, the Scottish Rite Choir, and the Bexley United Methodist Church Choir.
His remains were returned to the Bethlehem Cemetery.
See complete obituary David Barr Hathaway
HATHAWAY RECALLS BURNING OF CALHOUN HIGH - 1942 Tragedy Leveled Building
GRANTSVILLE MUSINGS - Dave Hathaway Has Fallen Behind ...
"MY WORLD, MY UNIVERSE" - Hathaway Recalls Universal Connection
SUNNY CAL JOURNAL - Don McGlothlin Challenged By The Times
BOB THE PARROT CLEARLY SPOKE "GUTTER TALK" - Life And Times Of Dudley Lutz