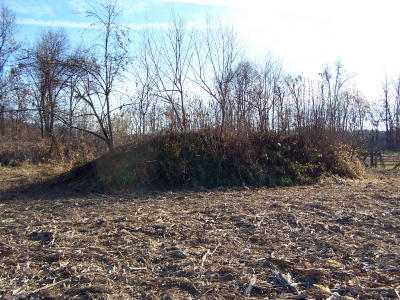 Native burial mound rests high on Calhoun
mountain, revered as a sacred place
By Bob Weaver 2010
Calhouner Ralph Carpenter says there are a number of Native American burial mounds in the hills above Henry's Fork and the West Fork of the Little Kanawha.
Looking out his window there is one such burial mound in his garden, a spot he reveres and holds sacred.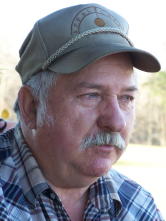 Carpenter (pictured left) a man connected to the sod, is just retiring from the former Burke-Parsons-Bowlby company after 42 years, and has spent much of his life farming, molasses making, and timbering, and crafting every off-shoot of country living.
He and his wife Nancy live in a hilltop log cabin he built in the deep woods between Letherbark and Henry's Fork, on property once owned and developed by Arch Price and Jack Starcher.
"The natives dug-up the earth about 200 feet away, to cover their dead in the mound, leaving what many people call a bear wallow hole," he said.
Exploring the wallow, Carpenter and his son discovered layers of burned wood and earth, also found in the burial mound.
Carpenter recalled watching the opening of a burial site on Egypt Ridge when he was 12-years-old, just across the valley from his farm.
There were at least a half-dozen such sites in this area on the hilltops, including one above the old Everett Starcher homestead at Rocksdale.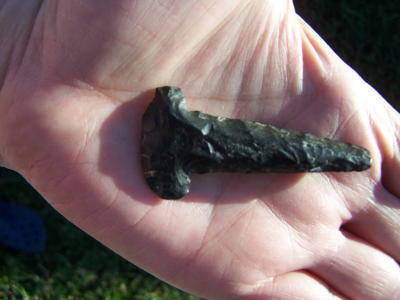 Flint crafted as an auger to drill
into materials, found by Carpenter
"I don't believe in disturbing the mounds," he said, "People have come along and wanted to dig this one open, and I've declined."
He has carefully gardened around the mound.
"I told one guy if he would let me dig up his mother to see what she looked like, I'd let him open this one," Carpenter said.
"He declined," he added.
Carpenter believes the fields around his ridge-top property was once covered by buffalo grass.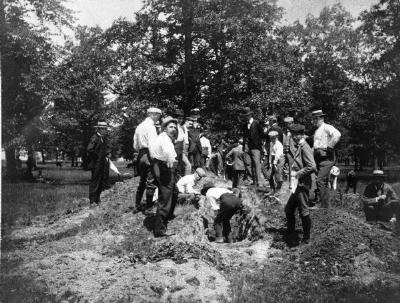 These folks decided to open a burial mound in Michigan in 1894
"Those bear wallows we all talk about, likely were used by the buffalo," he said, common to this area in the 19th century.
His interests extend to the families that carved a life in this wilderness, endlessly recalling stories about life in Calhoun.
"It is really an awesome place where we live," Carpenter concluded.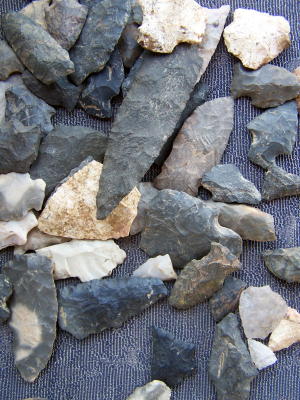 Carpenter's collection of flints and arrowheads
(2009)
See related story MAKIN' 'LASSES WITH MY FRIENDS - Ralph Carpenter Holdin' On