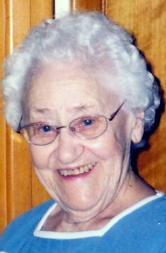 Bethel "Betty" Conley, 95, of Spencer, formerly of Charleston, died Thursday, November 12, 2009, in the Golden Times Care Home, Reedy.

She was born May 6, 1914, at Servia, Braxton County, a daughter of the late James W. and Prudence Olive Lowers Conrad. In addition to her parents, she was preceded in death by her husband, Harold Conley in 1974; one son, Leland Wood; two grandchildren, Michael Wood and Linda Wood; five brothers and two sisters.

Mrs. Conley was a homemaker. She was a member of the St. John's United Methodist Church for over 50 years, where she taught Sunday school for 25 years, Vacation Bible School, and was a member of the Elsie Simons Circle. She was a former member of the O.E.S.

She had a wonderful personality and was known as a loving person who was full of kindness. She was a cheerful woman who always had a smile.

Survivors include her caregiver and sister-in-law, Annilee Conley of Spencer; two grandchildren, Sharon Novack and Robert Wood, both of Wellington, OH; ten great grandchildren; and two great great grandchildren.

A funeral service will be conducted Saturday, November 14 at 2:00 p.m. in the John H. Taylor Funeral Home, Spencer, with Bill Walton and the Rev. Timothy D. "Tim" Bleigh officiating. Burial will be in the Eventide Cemetery, Spencer.

Friends may call from noon until 2:00 p.m. Saturday at the funeral home.