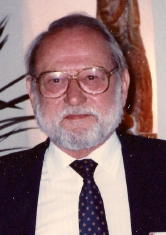 Van Richard (Dick) Thorn, 87, of Elizabeth, West Virginia passed away after an extended illness at Worthington Manor Thursday November 5, 2009.

He was born in Akron, Ohio the son of the late Van W. and Georgie (Blocker) Thorn.

He was a 1941 graduate of Wirt County High School, served in the United States Navy during World War II, and was third generation owner Of Dick's Market of Elizabeth. He was one of the founding members of the Big Red Markets, was the oldest living original member of the Elizabeth Baptist Church, a member of the Lions Club and Geritol Gang and was a former football official.

Dick is survived by his loving wife of 31 years, Betty Coe Thorn; 6 children, Van Richard (Rick) Thorn II and his wife Midge of Sutton WV; Dean Thorn and his wife Terrie of Elizabeth, Greg Thorn and his wife Rosella of Elizabeth, Michelle Trantham and her husband Doug of Jacksonville FL, Doug Moore and his wife Leslie of Mineral Wells WV, Patrice Shears and her husband Jeff of Sandyville WV; sister, Donna Thorn of Arizona; 19 grandchildren and 11 great grandchildren.

He was preceded in death by his first wife, Anne McCray Thorn; 2 sisters, Jean Thorn Pepper and Martha Thorn Swanson.

The family would like to say a very special thank you to the staff at Worthington Manor, for their kind compassionate care.

Service will be 1 p.m. Monday, November 9 at Matheny-Whited Funeral Home with Rev. Mark McCloy officiating. Interment will be in the K of P Cemetery, Elizabeth.

Visitation will be Sunday, November 8 from 4 to 8 p.m. and from 9 a.m. until time of the service on Monday.

Memorial donations can be made to the Elizabeth Baptist Church or the Wirt County Fair Association.