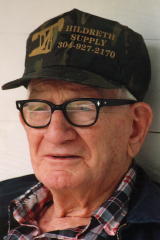 Clement L. Tawney, 100, of Left Hand, West Virginia, died Thursday, October 22, 2009, in the Roane General Hospital, Spencer, after an extended illness.

He was born July 19, 1909, at Newton, a son of the late Aaron and Almond Graham Tawney. In addition to his parents, he was preceded in death by his wife, Opal Nester Tawney in 2001; one son, Clement Joe Tawney; two grandchildren; four brothers, Harry, Ernest, Garrison and Clark Tawney; two sisters, Mabel Rogers and Florence Dalton.

Mr. Tawney was a retired employee of Union Carbide Corporation, with 33 years of service. He was a member of the West Virginia Fox Hunters Association and a life long resident of Roane County.

Survivors include four children, Jerome "Jerry" Tawney of Cross Lanes, Kenneth "Doc" Tawney of Myrtle Beach, SC, LaMoine King of Left Hand and Jack Tawney of Belmont; two brothers, Jarrett Tawney of Spencer and Dan Tawney of Newton; two sisters, Mamie Haines of Newton and Ann Desposito of Albuquerque, NM; 12 grandchildren, 26 great grandchildren, 2 step great grandchildren and 21 great great grandchildren.

A funeral service will be conducted Sunday, October 25 at 2:00 p.m. in the John H. Taylor Funeral Home, Spencer, with the Rev. John B. Smith officiating. Burial will be in the Clover Cemetery, Clover.

Visitation is Saturday, October 24 from 5-8 p.m.