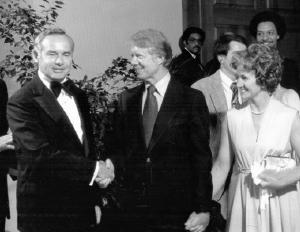 Ed Jarvis left (photo taken the night
President Carter was sworn into office
Emory "Ed" Jarvis, 85, of The Villages, Florida, passed away October 16, 2009.
He was born the son of Edwin Lee Jarvis and Madge Blanch McKlwee Jarvis on August 22, 1924 in Morgantown, WV.
In 1939, Ed was inducted as a Knight of the West Virgina Golden Horseshoe Society, one of the State's highest awards for academic achievement. While serving in the United States Navy during World War II, aboard the USS Nashville CL-43, and the USS Reid DD369 both ships were struck by kamikaze enemy action in the Pacific theater. Remaining in the military, his naval career took him all over the world, finally settling his family in Virginia Beach, Virginia. Retiring from naval service in 1971 as a Lieutenant he started a second career in real estate, becoming an associate broker in three states.
Ed enjoyed numerous hobbies, which included fishing, woodworking, flying airplanes, beekeeping and gardening. He built a 22' cabin cruiser with the help of his eldest son Larry and handcrafted each of his five children an heirloom clock. Flying his own plane became one of his passions after he obtained his pilot's license. He was a member of the Aircraft Owners and Pilots Association, the Virginia Beach Ruritan Club, and the West Virginia Society.
He is survived by five children, Lois Dianne Reyes and her husband Leonard, Linda Caron Jarvis Jeffreys and her husband Drew, Edwin Lawrence Jarvis and his wife Debra, Roy Allen Jarvis , Emory Wayne Jarvis and his wife Jacquline. He is also survived by his eight grand children, and 10 great grand children; three sisters Virginia Boggess, Jean Fleming, Garnet Williams. A brother Ira lewis Jarvis.
Funeral services will be conducted 11 a.m. Friday October 23 at the Bethesda Baptist Church of Palestine WV with Rev. Dale Cunningham officiating. Burial will follow in Bethesda Baptist Church Cemetary (Palistine Cemetary). He will be laid to eternal rest beside his loving wife of forty nine years, Nora Elizabeth Hutchinson Jarvis
Vistiation will be Thursday October 22 from 2-6 p.m. at Matheney Whited Funeral Home in Elizabeth WV.
Memorial donations can be Made to the Bethesda Baptist Church, Palestine WV.