Old hunter's camp on Tanner's Fork, Gilmer County, sketched
in 1846, an area frequented by hunters from Harrison and Lewis
close to the Bear Fork Wilderness and Calhoun County. The old hunter
on the right is pioneer William Patton of Bear Fork, Gilmer County.
By Bob Weaver
One of West Virginia history's most illustrious characters was Joseph H. Diss Debar who designed the official state seal and coat-of-arms.
Many of his illustrations from about 1850 depict scenes in the greater Little Kanawha River region, including areas well-known to Calhoun residents.
Diss Debar was a highly educated Frenchman, who spoke German and English equally well, he knew Spanish and Italian and could translate Latin and Greek.
He was also an artist of great talent, and many sketches of early state history bear his name.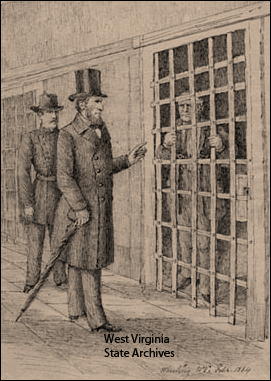 Sketch of Dan Duskey, a noted Moccasin Ranger guerrilla of Calhoun County, charged with several murders and other criminal offenses during the Civil War. After much trouble he was captured early in 1864 and confined in a Wheeling jail. He tried to obtain his release by proposing to Governor Boreman to use his influence for the pacification of the Little Kanawha region. Though this was not accepted, he finally escaped from the extreme penalties of the law, and returned to live in Sunny Cal.
Diss Debar came to America in 1824 with Charles Dickens, who was also making the voyage, and the two became friends. During the journey aboard ship Diss Debar sketched a very commendable portrait of Dickens.
Following his wife's death in Parkersburg, Diss Debar went to Doddridge county, where he bought a tract of land, bringing a Swiss colony to the hills of West Virginia, settling them near Leopold, a little town which he called Santa Clara.
Diss Debar was active in politics and life in West Virginia.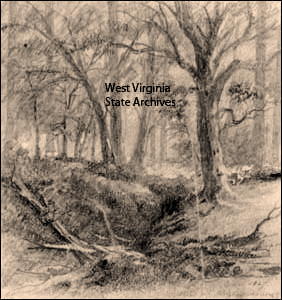 Sketch is of the extreme head of the South Fork of Hughes River,
where Thomas and Jesse Hughes, Carder, Lowther and others often
camped on their hunts. Carder had another camp named after himself,
two miles farther south, on Cove Creek, where the Debar house stood.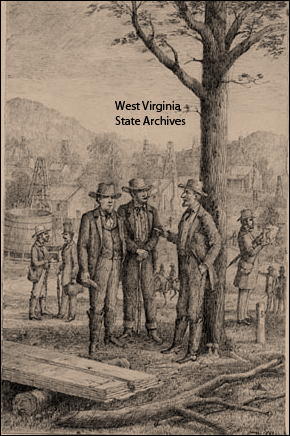 The first oil excitement at Burning Springs, Wirt County,
in 1861. Gen. Karns, a Pennsylvanian, was the first operator who
struck oil in the state. John V. Rathbone was one of the original
proprietors of the Burning Springs farm. The first successful
wells were named after him, the Camdens, and William Harkness.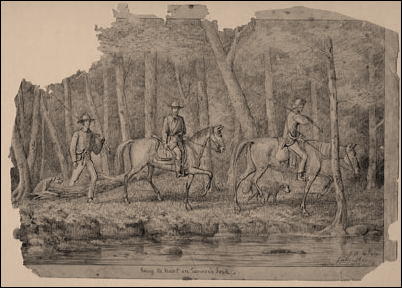 Hunting on Tanner's Fork near Bear Fork
Wilderness in Gilmer-Calhoun County