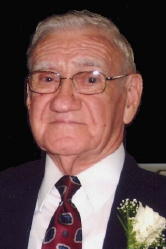 Blake W. Conley, 85, of Spencer, West Virginia, who lived quietly for the Lord during this present life, passed quietly into his Lord's presence on September 27, 2009, at Miletree Center. He was a man of quiet personality, but he was well respected and trusted by those who knew him.

He will be dearly missed by his wife of 64 years, Annilee S. Conley, and his family and friends.

In addition to his wife, he is survived by a son, David W. and Gayla Conley of Peachtree City, GA; daughter, Karen and Larry Kiser of Richland, MI; grandchildren, Gavin and Elizabeth Kiser, Chicago, IL; Brittany and Shadd Clausen, Allendale, MI; Tiffany Kiser and Neville Kiser, Pasadena, CA; Blakeley and David Mays, Kalamazoo, MI; Destry Kiser, Chelyan Kiser and Kuldin Kiser, Richland, MI; Jeremy Conley, Richland, MI; Bethany Conley and Heinz Wurzburg, Pensacola, FL.

He was preceded in death by his parents, the late John I. and Icie Rader Conley; two sisters, Madge Shouldis and Kathleen Miller; and five brothers, Harold, Hicel, Freer, Clarence and twin brother, Brooks; grandson, Jason Wayne Conley.

He was a life long resident of Roane County, attended Walton High School and was a retired employee of the WV DOH. He was a 50 year member of the Moriah Lodge No. 38, A.F. & A.M., also for over 50 years he attended the Spencer Baptist Temple. He was currently a member of the Faith Baptist Church.

A funeral service will be conducted Saturday, October 3 at 11:00 a.m. in the John H. Taylor Funeral Home, Spencer, with the Rev. Hayward Lough and Pastor Wayne McGlothlin officiating. Burial will be in the Eventide Cemetery, Spencer.

Friends may call Friday from 6-9 p.m. at the funeral home.

Memorial donations may be made to the Faith Baptist Church, P.O. Box 483, Spencer, WV 25276.