By Bob Weaver

It's a story unheard by most Calhoun residents, how close a section of the county was to becoming part of Roane County.

In the many battles over the formation of new WV counties in the 1800s, parts of Calhoun County could have become part of a proposed California County, now Roane County.

In 1840, Raleigh Butcher, on a trek westward to California, came to where Spencer now stands and built a large house, after which the place was known as New California.

In 1858 the town was chartered by the Virginia General as Spencer, presumably in honor of Judge Spencer Roane.

Following a long battle over lines that encompassed several counties including Kanawha, Wirt, Jackson and Gilmer (Calhoun), an area that had about 500 citizens in 1850, a hard fought effort to create California County ended in defeat with the creation of Roane County in 1856.

Still, over 300 citizens in the region, a number from what is now Calhoun, signed a petition for the creation of California County.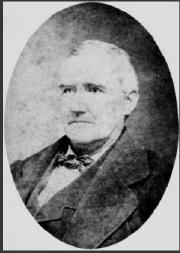 About 1845, Peregrine Hays (shown left) one of several "founders" who had large land interests at stake, proposed a county formation that included areas of the lower end of Gilmer, proposing a county seat at Arnoldsburg.
The petitions were submitted to the Virginia General Assembly.
By 1855, Hays' plan was in direct conflict with California County, although many residents up and down the West Fork had already signed the California petition, some later changed their mind in support of Arnoldsburg.
The fight to have a county seat closer than 60 hard-traveled miles was behind the efforts to have a seat of government closer to the settlers.
The Mace family and others who lived in the West Fork region of the Little Kanawha had a 60 mile trip to Charleston, but after Gilmer County was formed in 1845, the trip was lessened.
Jeremiah Mace, who lived along Henry's Fork, a stream that divides Calhoun and Roane, was only ten miles from Spencer. Mace was a leading advocate for California County, Spencer being its' county seat.
Mace, like the other founders of Roane County, felt his interests would be better served if a courthouse was closer home.
By 1856, conflicting bills was introduced in the Virginia Assembly to create Calhoun County, with the creation of Roane County happening after a number of compromises.
Peregrine Hays, an elected delegate, worked out a deal over the greater Henry's Fork and Beech area. The compromise allowed Calhoun to get most of the West Fork area, but Roane would get Henry's Fork above the mouth of Beech Fork.
Benjamin Smith, although involved in the compromise, really wanted much of the West Fork region of Calhoun to be part of Roane.
Hays bitterly opposed any such measure, since he wanted Arnoldsburg to be a county seat, his holdings surrounded much of that location.
When the political battle flared pitting Grantsville and Arnoldsburg to be the county seat, Hays, being the political mastermind, and was involved in buying property in northern Calhoun, just in case Arnoldsburg lost the bid.
Arnoldsburg did lose the county seat, after a number of elections and shady shenanigans, the courthouse went to Grantsville.
Crane's publication, "The Founders of Roane County," has about 300 signatures for the formation of California County, with several from Calhoun. See samples below:


Jeremiah Mace, farmer, Henry's Fork; Peter McCune, farmer, West Fork


David Riggs, farmer, Hur (my great-great grandfather who lived on Barnes Run); Jacob Slider, farmer, Hur