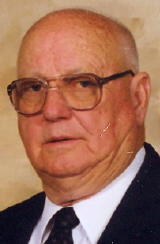 Harry R. "Bob" Miller, Jr., 77, of Spencer, passed away September 20, 2009, in the St. Joseph's Hospital, Parkersburg, after an extended illness.

Mr. Miller was born December 6, 1931, in Looneyville, a son of the late Harry Robert and Effie Helen Miller. In addition to his parents, he was preceded in death by his wife, Lillian Cora Miller; son, Richard Miller; and sister, Virena Holland Wright.

He retired from the W.Va. Dept. of Highways in 1988 after 31 years of service and from Carl Kelly Paving after six years of service in 1996. Mr. Miller was an avid sportsman who enjoyed hunting and fishing. He was a member of the Roane County Gun Club. He was an ardent Democrat, who served several years on the Roane County Democrat Executive Committee.

Mr. Miller received the Democrat of the Year award in 2004. Also, he served on the Board of the Roane County COA and the Reedy Senior Citizens. He was a member of the Epling Chapel Baptist Church, Looneyville and a 1950 graduate of Parkersburg High School.

Survivors include two sons, Harry R. "Rob" Miller, III of Spencer and Donnie Michael Joseph of Mineral Wells; one daughter, Penny Denise Cole of Elizabeth; eight grandchildren and four great grandchildren.

A funeral service will be conducted Thursday, September 24 at 1:00 p.m. in the John H. Taylor Funeral Home, Spencer, with the Rev. Garry L. Bowen officiating. Burial will be in the Eventide Cemetery, Spencer.

Friends may call Wednesday from 6-8 p.m. at the funeral home.