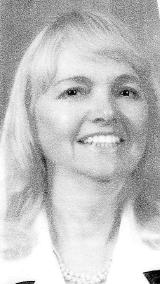 Diana Susan Simmons, the Wirt County lawyer born in England who traveled the world before settling down in rural West Virginia to practice law with her husband and raise three children, died Sunday afternoon, September 13, 2009, after a long and courageous battle with cancer. She was 61.

Simmons is best remembered for her determination, her sense of adventure, as well as the love and compassion she shared with family and friends.

Simmons was born Diana Susan Wright on Nov. 5, 1947, in Poulton-Le Fylde, England, a small town outside Blackpool. Her father, Robert Wright, was a flight engineer in Britain's Royal Air Force during WWII. He was the lone survivor aboard a British war plane shot down by Germans and was forced to endure months inside a prisoner of war camp.

Susan and her family moved to Canada shortly after the war and then to Southern California. Although her childhood was marked with several moves and school changes, she adjusted well and graduated from California State College at Northridge with a bachelor's degree in psychology.

She followed a number of career paths. She briefly moved back to Britain and worked as a flight attendant, traveling extensively to Europe and Africa.

But a job as a legal secretary opened her eyes to practicing law. Susan met her husband and law partner Berkeley Leo Simmons in 1976 when they were law school students at San Fernando Valley College of Law in Los Angeles. After graduating from law school and passing the California State Bar Exam, they married in 1978 and soon established their own law firm.

As partners in marriage and law, the Simmons' lived in Ventura, Calif., and had three children: Sean, born in 1979; Adam, in 1982; and Christine, in 1985.

In 1990, Susan and Berkeley moved across the country to West Virginia, where they fell in love with the Mockingbird Hill farm in Wirt County. By renovating their 19th century house and again working together at their new law firm, this one right beside their home, Susan and Berkeley fulfilled their dreams of a country life.

Simmons would ultimately practice law for more than 30 years, driven by a sense of justice to fight on behalf of her clients. Known to be stubborn and persistent, Simmons also strived to carry out goals in her personal life. She taught her children the value of hard work and determination, as each one achieved success in their own careers.

Her joy was also just as present. Her calendars were filled with dates of vacations to Virginia Beach, local festivals, Mountaineer football games and her children's birthdays and graduations.

Her legacy continues with her children and her husband. She will be missed tremendously but her love, support and driven personality will remain eternally in the hearts and minds of her family.

Viewing for Susan Simmons will be available to the public at 1 p.m. with services starting at 2 p.m. on Tuesday, Sept. 15, 2009, at Matheny Whited Funeral Home in Elizabeth, W.Va.