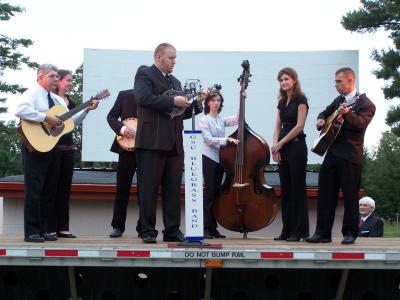 GSC Bluegrass performers play retro music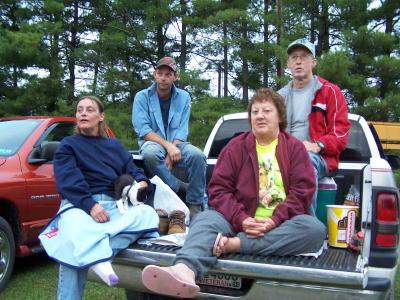 Like old drive-in days, sittin' on pick-up truck
By Bob Weaver 2009
It was flashback time at the Mt. Zion Drive-In Saturday night, recalling the early live music days when notable performers came to rural Calhoun to display their talents.
The Glenville State College Bluegrass Band played many of the tunes that were so popular during the 1940s, 50s, and 60s in shows under the stars.
Most of the major bluegrass and country performers had tours which appeared at many of the state's drive-in theaters, once numbering 85. Now there are eight.
At Mt. Zion, notables like Lester Flatt and Earl Scruggs, Ralph and Carter Stanley, the Osborne Brothers, Melvin and Ray Goins and the Lonesome Pine Fiddlers made appearances.
Of course, there was Grandpa Jones, Little Jimmy "How Ya Doin' Partner" Dickens and Minnie Pearl.
In earlier days, making live appearances in Calhoun at the Orma Theatre, Haymaker Grove, Log Cabin Park, or Kanawha Theatre was Cap, Andy and Flip, Long John and Cherokee Sue.
At the Mt. Zion Drive-In, the stars would climb up a ladder and perform their act from the top of the projection booth, no fancy lighting, just a couple of spotlights, and low-tech sound with a single mic.
The stars would meet and greet the fans in a close-up and personal way, a tradition replaced by television and big concert shows.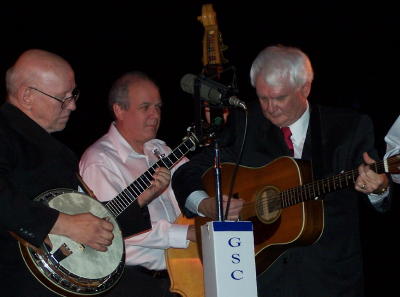 Buddy Griffin and friends take the stage
"I still recall the excitement with the smell of popcorn and the electricity in the air as people flocked into the drive-in to see and hear their favorite entertainers," said Buddy Griffin of Glenville State College and member of the GSC Bluegrass Band.
"Some folks even sat and listened from their cars blowing horns instead of applauding for each musical selection," said Griffin.
The GSC Bluegrass Band is an off-shoot of the Glenville State College Bluegrass Certificate program. Members include students Luke Shamblin of Elkview, Josh Chapman of Sissonville, Derek Vaden of Kansas, Megan Murphy of Glouster, Ohio, Trish Cottrell of Glenville, and Buddy Griffin. Griffin also performs with Ashley Messenger as Retro.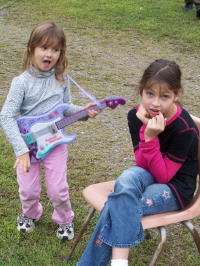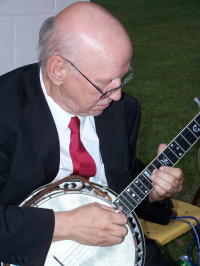 Girls get into swing of music while Buddy Griffin tunes up