THE HERALD MYSTERY TREE STORY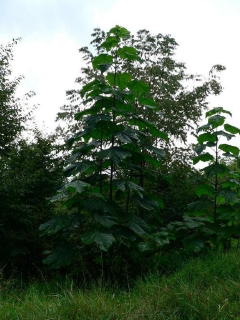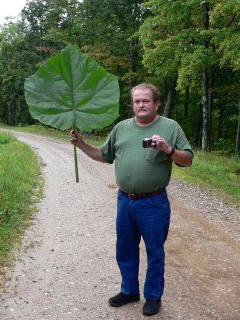 (Photos by Anita Vannoy)
Bobby Hartshorn spotted this tree in the Groundhog section along a back-road in the Creston area in 2009
The tree has extremely large leaves. The leaves grow from the actual trunk of the tree, no limbs.
Readers, if you know what kind of tree this is, e-mail ...
RESPONSE
The Herald received about 75 responses to the mystery tree inquiry, a few of the responses are published here.
We thank all the readers who took time to respond.
Donna Jordan wrote: "I believe the mystery tree is a Paulownia. What is pictured is the first years growth. Next year it should fork at the top, and it will get branches. It grows very quickly, and as it gets a little older, will be covered in purple blooms in the spring, and seed capsules filled with tiny seeds in the fall."
"It originates from China. In Japan, a tradition was to plant a Paulownia tree with the birth of a baby girl. Later, the tree was harvested, and the wood was used to build a hope chest or other furniture for her wedding. It is sometimes referred to as Princess Tree, as it was named in honor of the daughter of the Czar of Russia."
Dale Starcher of Painesville, Ohio wrote: "I have this tree in my yard. It's an amazing tree will grow 2-3 feet per year."
Barry Pitts of Grantsville says: "The "mystery tree" is Paulownia Tomentosa. It has several common names including: Royal Paulownia Tree, Princess Tree and Empress Tree among others. It is being used more and more of late in the US as an ornamental although it is widely popular in Europe and Asia for wood, religious ornaments and even some musical instruments."
Charles Sypolt of Glenville says: "It is probably a Paulownia or Empress Tree, apparently growing in a rich site and doing well. It should have lateral limbs next year."
Kim Tanner wrote: "It is from China and it is a very fast growing tree that attracts wood boring insects, produces flowers and seeds and grows very fast."
Maggie Volkwein wrote: Lots of Paulownia grow on the New River, where the old railroads are. They can get to be a pretty good size tree. Woodcarvers like them. They have flowers that are showy, purple and white, and smell like cheap cologne. They are a Chinese tree, got here when the china dishes shipped over the railroads were packed in Paulownia seed pods."
Aaron Sharps of Smithville wrote: "I believe the mystery tree to be a young Royal Paulownia (Paulownia tomentosa). It looks identical to the immature trees growing on my father's property in Peytona, Boone County..."
Sarah Higgs said" "When the tree matures, it will have large hanging lavender blossoms in the spring that are quite fragrant. It's really a good tree to have around. A custom in Japan, is for a family to plant a Paulownia tree at the birth of a daughter, then cut when she marries. The wood from the tree is used to make an ornamental chest for the bride."
Darlene Rickard says: "I have one in my yard. I have seen several in the area."
Steve Allison of Grantsville wrote: "We have four survivors... They grow like weeds and are farmed for lumber in Asia being ready for timbering at 20 years. One of them hit 12' the 2nd year, started from a overgrown toothpick about 10-12" long."
Sue Cosgrove wrote: "Carl Shaw grew dozens from seed this year. I have a couple at the farm and so does Mary and Jim Labaw, among others. There's another near Chloe Hardware. Beautiful, interesting tree..."
Loren Howley wrote: "We had some in our holler; they have very large leaves, and the leaves grow straight out of a quick-growing straight trunk (that starts out looking like a woody stem but rapidly changes to look like a tree)."
Danny Law of Broomstick wrote about Royal Paulownia: "They are getting to be several in this area, lots in the southern part of the state especially along I-64. I have three in my yard and one that just came up this spring and has already grown over 16'. Often considered the most expensive wood in the world. They used the seed pods in crates for packing many years ago on the ships from Japan."
Tania Houck wrote: "These trees are beautiful in bloom! There is a "plantation" (several fields) of Paulownia in Calhoun County, SC on Hwy #6 near Creston."
Russ Snyder of Creston: When mature the trees resemble the Catalpa...They have been in this area on a limited basis for a long time. When I was growing up (50-60 years ago) there was a fairly sizable mature tree in my aunts yard. There is also one growing in Elizabeth in front of the Masonic Lodge where they have recently torn down a building...There are a number of nurseries offering them for sale on the internet. They are rather pricey but probably a good value given their rapid growth, abundant shade, and timber value..."
Former DNR Officer, Tom Fox said: "Your mystery tree is Paulownia or Princess-Tree...It is invasive and is quite common in the Kanawha Valley and other parts of Southern WV."
Forester Larry Jones of Pt. Pleasant: "The mystery tree in the picture is a Paulownia tree. They are often planted for shade trees, very fast growers, and can become invasive."
Calhoun forester Russ Richardson also warned: " "It is considered an invasive tree."
James C. Haught wrote: "The name of the tree found on Groundhog near Creston is Paulownia tomentosa, named for Princess Anna Paulownia (1795-1865) of the Netherlands. Large Paulownia trees are valuable..."
Bob Gregory of Minnora wrote: "Your "mystery tree" appears to be a juvenile Paulownia Tomentosa, commonly called "Empress Tree." The tree is indigenous to China, Laos and Viet Nam but was imported here in the last century as an ornamental species."
James Meads, retired teacher, of Glenville wrote: "Princess tree, also known as royal Paulownia or empress tree, can reach 30-60 feet in height. Paulownia is native to western and central China where historical records describe its medicinal, ornamental, and timber uses as early as the third century B.C. It has been cultivated for centuries in Japan where it is valued...It was imported to Europe in the 1830s by the Dutch East India Company and brought to North America a few years later. Paulownia has been naturalized in the eastern U.S. for more than 150 years..."