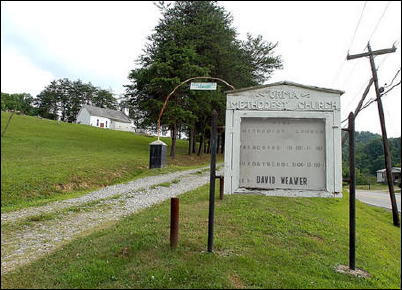 The Orma Methodist Church in Calhoun County
has been welcoming worshippers for two centuries.
Photo by Bob Wojcieszak
See addtional photos at dailymail.com
By Charlotte Ferrell Smith
Daily Mail staff dailymail.com
ORMA 2012- A little Methodist church situated on a hill in this Calhoun County hamlet has housed worshippers for nearly two centuries as amenities have gone from coal stoves and oil lamps to gas stoves and electricity.
Orma United Methodist Church is now in the process of switching from outhouses to indoor toilets and getting a building addition.
A brief and sketchy history says the church was dedicated in 1812 when it was located on the banks of the West Fork, not far from its present location. It was situated along a country road near the stream that made it convenient for baptisms. When the country road was moved to a higher elevation, the little church was left somewhat isolated.
"Most churches in our area are around 100 years old," said the Rev. David Weaver, the church's pastor. "It was a surprise to me that this church was that much older. It was over 100 years old when they moved it here."
In 1919, the church was loaded on skids and six oxen pulled it across a wide field and up a hill to its current spot next to the Orma Cemetery, which has graves dating back to the 1800s. Over the years, coal stoves and oil lamps were replaced with gas stoves and electricity. The separate entrances for men and women were united into one entrance for everyone. New windows and siding were installed. The late Johnnie Alfred, a former pastor, built 21 handmade pews in his home woodworking shop for the little church several decades ago.
As the years have melted into decades and the decades into centuries, the church has withstood many changes, including a dwindling congregation. Weaver, who has served the church since 2002, is also pastor of Beech United Methodist near Arnoldsburg. He is also property manager for Bramblewood Village.
Orma United Methodist has 10 to 15 people in the pews on an average Sunday.
But don't let size fool you. The small and dedicated group gets things done.
Fundraisers over a couple years have raised about $6,000 that has been spent on materials for an addition that will house a multipurpose room, kitchen and bathrooms. Public water is expected to come to the area, but no date has been set for that improvement.
"We don't have any water now," Weaver said. "We discussed digging a well but the health department said we are too close to the cemetery."
No indoor toilets and a lack of water impede church growth, he said. He believes the building addition and indoor plumbing will boost attendance and make it possible to hold a vacation Bible school.
"We hope to get enough funds to get the addition under roof before winter," said Weaver, who added donations of roofing, siding and two-by-fours would help.
Members of the community have been chipping in with volunteer labor.
Weaver, of Grantsville, was working as an electronics technician before he decided to become a pastor.
"I had been a lay speaker for many years," he said. "I felt God was calling me to do more. I feel a real call in my life to serve small churches that otherwise would not have a pastor. I feel there is a definite need to fill pulpits in these small churches. So many churches have closed over the years for that reason."
He and Sandy, his wife of 28 years, are the parents of Caitlin, 21, and Heather, 24, who married Phillip Perkins last summer.
"I walked her down the aisle and did the ceremony," he said. "It was a wonderful day."
Aside from working in their own church, those who attend Orma United Methodist reach out to do mission work.
They join with other United Methodist churches in Calhoun County to run the United Methodist Mission at Minnora where new and used clothing is sold or given away to assist low-income people. They also contribute to the united goal of area churches to supply scholarship money to a senior at Calhoun County High School. Members even manage to send a little to Mountain Mission in Charleston.
They have two fundraisers scheduled to raise money for their building project. A bake sale will be held at the Speedy Mart in Arnoldsburg 9 a.m. Aug. 3. At 9 a.m. Aug. 4 and 5, they will hold a yard sale at the home of church secretary Sharon Settle of Orma. Any donations to the building fund may be sent to Sharon Settle, HC 73 Box 7, Orma, W.Va. 25268.
Those who attend the little white church on the hill believe anyone who enters the church would feel welcome.
Edna Zwoll said the church now sits on land that was in her late husband's family for generations. The Rev. Oliver Zwoll, who sometimes filled in as pastor, once told her he recalled standing room only in the church when he went there as a child.
Clara Nicholson enjoys attending church where "I don't have to dress too nice and everyone is friendly. They don't act like they feel like they are better than I am. They are equal."
Zwoll said at Orma United Methodist she feels "closeness and the love of God."
Worship service is 10 a.m. each Sunday followed by Sunday school at 11 a.m.
Contact writer Charlotte Ferrell Smith at charlotte@dailymail.com or 304-348-1246.