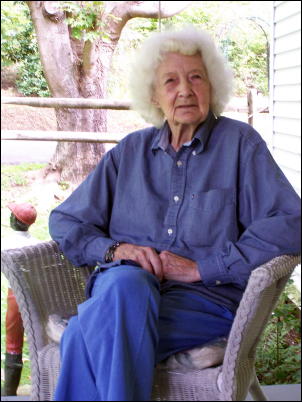 Dora Starcher recalls fascinating life on Mud Fork
Today I stopped by Dora Starcher's place on Mud Fork (Stinson) and sat a spell on what is left of her homestead, the main house having burned down after her death.
I was grateful that the fire happened after she died, she having loved her place, with the inside and its carefully placed collections of a lifetime.
I found a small sign along the road, "The Starchers," which called for a little more time to think about her life.
I recalled my visits with her and her generous smile, a grand lady who was always trying to give back to her neighbors and community, including the nearby Starcher Park.
The delightful woman died in 2011 at the age of 93.
By Bob Weaver 2009
Mud Fork resident Dora Starcher, now 90, said "It's unbelievable what I've seen in my lifetime, having experienced several generations come and go."
Dora, who recently experienced a heart attack, is back to housekeeping, being a member of the Red Hat Society and a vital member of the Calhoun community.
She had served on the Calhoun Library Board for several years.
"I really do know how Mud Fork got it's name," she said, recalling her school days in the 1930s when she put on four-buckle rubber boots to wade to Route 16 at Stinson to catch the county's first school bus.
She recalls the bus ran almost to the Clay County line, with Captain Knotts being the driver. "Route 16 was mud too," she caught the bus about 6:30 a.m. and often getting home in the evening after dark.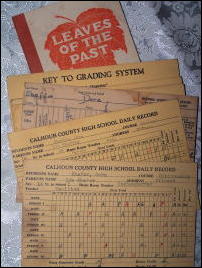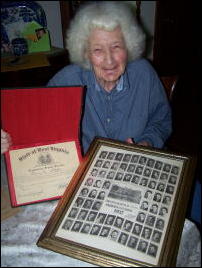 Dora still has her autograph book from school
days, report cards, photos and CCHS diploma
"There was only one man who had a truck in this community, down at Stinson," she said.
"Millstone Hill would be so bad, they'd have to put on chains. In my four years, I only missed two days," she said, "They never canceled school back then."
Growing up on Mud Fork, "We would sell a dozen eggs to buy some lamp oil and coffee," having no electric or gas and "few clothes to wear to school, often having to wash them to wear the next day."
While attending Calhoun County High School, "I made good grades, played basketball and learned to play music in the band."
She attended CCHS during much of the Great Depression, graduating in 1937, recalling with sadness the death of two of her school friends in 1938, Blaine Conley and Madge Jarvis, killed in a car wreck in Clay County.
"Perhaps two of the most interesting events in the community, was the birth of a child with two heads and the discovery of an Indian burial ground on my parents property."
"Some of the family dug up the Indian bones, and my mother had them taken back and re-buried," she said.
Dora is proud of the Starcher Park located on her farm, started because there was no place for recreation in the community.
Dora came to Calhoun from Fairmont with her parents Emmons and Ida Minor Shaffer to the Shaffer homestead during the early part of the Great Depression.
In 1939 she married Denver Starcher of Clay, now deceased. They had four children, Elizabeth Ann Wild of Georgia, Mary Catheryn Ruckman of North Carolina, Rebecca Louise Lance of Creston, Ohio and Roberta Jo Gregoire of Seville, Ohio.
"When I married Denver, a neighbor recommended a local preacher, who we paid $2," she said, but he took the money and run, never filing the certificate. "After my mother complained, about 10 months later we got a real ordained minister," Dora said.
During her early years, before she and her husband went to Ohio to work, she taught at several rural schools in the county, including Mud Fork's one room school, in addition to Arnoldsburg, Millstone and Fairview near Stumptown.
Dora has 11 grandchildren, 11 great grandchildren and two great-great grandchildren, "with two more on the way."
"It has been an amazing life, still is," Dora concluded.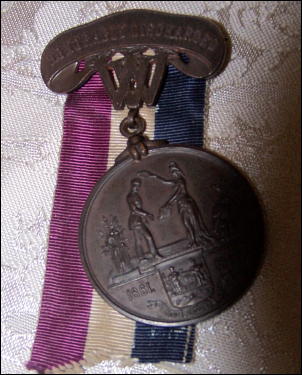 Dora applied for and received a long-held
Civil War Union medal belonging to her grandfather
John F. Shaffer (1837-1918) a Calhoun homesteader
2009