CAPTAIN FORD ROGERS DIED IN 2012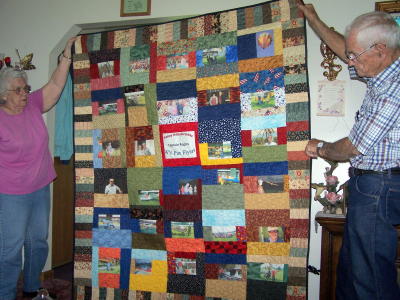 Rogers and wife display his special 84th
birthday gift representing his flying life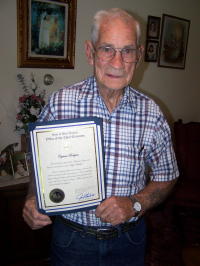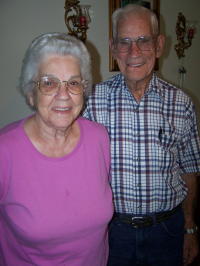 Rogers recently received recognition for flying from Gov.
Joe Manchin (left) shown with "Donie," his wife of 60 years.
By Bob Weaver 2009
Arnoldsburg airplane pilot Captain Ford Rogers was recently recognized by Gov. Joe Manchin for his love of flying, being honored on his 84th birthday.
The energy-ridden Rogers, who is known regionally as "the Flying Captain," said, "I love being up there."
Hanging in his living room is a plaque which says, "Once you have tested flight, you will forever turn your eyes skyward."
Rogers, who has been a used car dealer in Calhoun and Roane County for about 45 years, always loved cars, and has owned and restored many of them.
"I have a passion for them, taking them apart and putting them back together," he said.
His Arnoldsburg garage is full of antique cars, flying machines and projects in progress.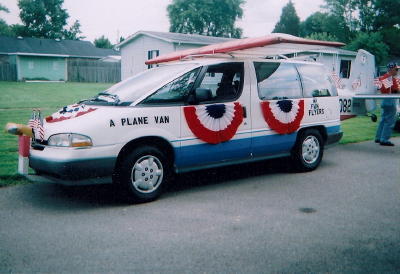 One of Rogers many creations is this
"Plane Van," displayed in regional parades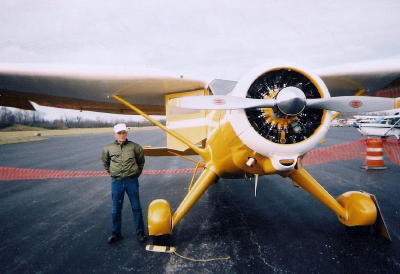 One of the many airplanes he has owned and flown
"But as a young man I always wanted to fly," Rogers said, getting his pilot's license when he was 58, nearly 30 years ago.
"It's been a great adventure," hooking up with his flying buddies in Parkersburg about every weekend, working on airplanes and taking to the skies.
"I just can't sit still," Rogers said, working long hours on airplane and car projects.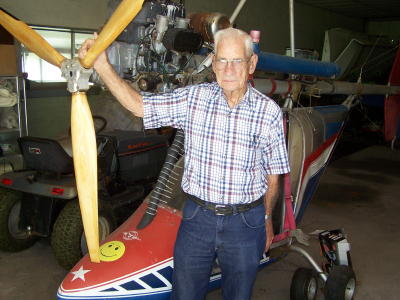 One of many flying machines in Roger's garage
A Calhoun native, having grown up on Upper Big Run off Nicut Road, he moved to Arnoldsburg in 1964. Married to Webster County native "Donie," they have two children, Chris Conley of Arnoldsburg and Carl Rogers of Annamoriah.
"I really liked the car business, too," Rogers said, having "tried real hard to help the customers and treat them fairly."
"It's been a great life, living right here in Arnoldsburg," he concluded, pointing to 40 foot high pines he planted many years ago, given to him by Deward Offutt.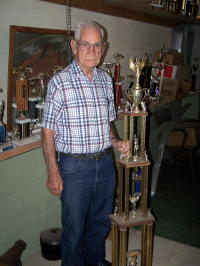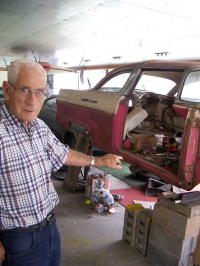 Rogers has hundreds of trophies received at car shows displayed
in his garage (left), one of a half-dozen cars under restoration,
from a 1930 "Dictator" Studebaker to a 1955 Ford Crown Victoria