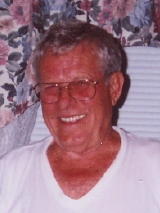 Whetzel Carl Starcher, 78, Left Hand, West Virginia, died Monday July 20, 2009, in the CAMC-Memorial Hospital, Charleston, after lung surgery.

He was born Sunday, June 21, 1931, at Otto, Roane County, a son of the late Carl and Hester Sirk Starcher. In addition to his parents, he was preceded in death by a brother, James Starcher in 2008.

Whetzel was retired from Pace Pipeline Construction, Delmont, PA. He was a member of the I.U.O.E., Local No. 132, Charleston. He was an Army veteran of the 1950's and a member of the American Legion Post No. 21, Spencer. He was a member of the Hays Fork Community Church, the Linden Chapter No. 152, Order of the Eastern Star and the Linden Lodge No. 83, A.F. & A.M., Linden.

Survivors include his wife, Lillian "Flip" Starcher, whom he married in 1958; five children, Carl Eugene Starcher of Amma, Howard Starcher of Linden, David Starcher of Looneyville, Jimmy Starcher of Mt. Alto and Peggy Starcher of Belle; two brothers, Sonny Starcher of Melbourne, FL and Jack Starcher of Ivydale; four grandchildren and two great grandchildren; four aunts, a niece and a host of cousins.

A funeral service will be held Friday, July 24 at 1:00 p.m. in the John H. Taylor Funeral Home, Spencer. Burial, with Masonic graveside rites, will be in the Clover Cemetery, Clover. Friends may call Thursday, July 23 after 6:00 p.m. at the funeral home, where an Eastern Star memorial service will be conducted at 6:30 p.m.

Memorial donations may be made to the Hays Fork Community Church.