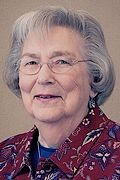 Dorcas L. Speer, age 82 of Rochester, Minnesota, passed away peacefully July 13, 2009, following a courageous battle with lung cancer.

Dorcas was born May 4, 1927, in Spencer, W.Va., and graduated from Calhoun County (W.Va.) High School. She earned a Bachelor of Arts degree in home economics in 1948 from Purdue University and married her first husband, Benjamin Wheatley, the following year.

After living in Indiana, Michigan and Ohio, Dorcas and family moved to Iowa, where she began a long professional affiliation with the Iowa State Extension Service and Iowa State University in Ames.

As the Women's Editor for WOI, the university's radio and television station, Dorcas hosted a local talk show televised each weekday at noon and the weekly radio program "Sixty Plus."

She later became the station's first on-air consumer reporter. While living in Ames, Dorcas was an active supporter of the arts and community service organizations, participating on the boards of the Shelter House, the Octagon, and Ames Public Library.

In 1999 Dorcas and her second husband, John F. (Jack) Speer, relocated to Charter House in Rochester, where they became equally involved in Rochester's community and arts offerings.

Until earlier this year, she was an active member of the Rochester Public Library, the Southeastern Minnesota Visual Artists group, and the Mayo Clinic Art and Architecture Tour organization. She also served as a board member of the Rochester Downtown Alliance and was a past president of the Mayo Clinic Volunteer Services group.

Dorcas was a talented seamstress and knitter, an award-winning still photographer and cook, an avid book club member, and a welcoming hostess who loved to entertain family and friends. She and Jack were ardent travelers, and after retirement attended numerous Elderhostel events throughout the world.

Dorcas is preceded in death by her parents, Lenna and Lelah Ball; and her husband of 33 years, John F. Speer.

She is survived by her son, David (Evelyn) Wheatley; daughters, Katherine (Todd) Bloomfield and Christine (Jeffrey Vilen) Wheatley; stepdaughters, Anne (Larry) Rutter and Chris (Russell) England; a brother, Albert Ball; nieces, Kathy Smith and Janet Crawford; grandchildren, Erik, Lauren and Kelley Vilen, and Nicholas (Stephanie) Weber; stepgrandchildren, Angela Balius, Kirk (Di) and Eric (Dina) Marty and Jenny Stout; great-grandchildren, Benjamin and Stella Weber, Patrick and Emily Balius, George and Max Marty, Kyra, Emerson and Alexi Marty, and Jack and Gabe Stout; and many, many devoted friends and colleagues.

Dorcas was dedicated to her family and was an inspiration to others. She will be deeply missed by everyone who knew her.

The family expresses gratitude for the compassionate care given by Dr. Paul Takahashi, the Mayo Clinic Hospice Program, and the staff of the Assisted Living and Skilled Care facilities at Charter House.

There will be an informal gathering to celebrate her life at 2:30 p.m. Saturday, July 18, at Charter House, 211 2nd St. N.W., in Rochester (507-266-8572).

In lieu of flowers, memorials are preferred to Southeastern Minnesota Visual Artists (SEMVA), 16 1st St. S.W., Rochester, MN 55902 (507-281-4920); the Mayo Cancer Center, Mayo Clinic, Department of Development, 200 1st St. S.W., Rochester, MN 55905 (507-284-8540); the Mayo Hospice Program, 50 7th St. N.E., Business Center Building 1, Rochester, MN 55906 (507-284-4002); the Rochester Public Library, 101 2nd St. S.E., Rochester, MN 55904 (507-328-2300); or the Ames Public Library, 515 Douglas Ave., Ames, IA 50010 (515-239-5656).