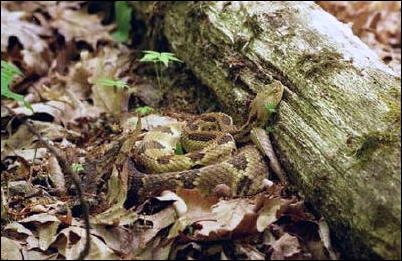 This nasty bite'n guy was photographed
by wildlife photographer Mark Shock
By Bob Weaver
Wildlife abounds in Sunny Cal.
Most Calhoun natives seem to flunk a perception test of where they live on the earth.
Calhouners live in a green forest, with at least 90% of the land covered by trees. Most would consider it a forested wilderness.
While much of the land was cleared for pasture 100 years ago, but with the decline of farming, the forest has crept closer and tighter against houses, villages and roads.
Within these forests is an ever expanding population of wildlife, including pesky snakes, the good kind and the poisonous kind.
A while back I went to the garage to find some tools, discovering a Copperhead resting on a box of fittings.
My wife operates under the philosophy, "The only good snake is a dead snake," so we spent about two hours moving stuff around to kill the Copperhead.
Today, we take a look at a few of the Herald's assemblage of snake photos and tales.
Whoppin' Big Rattler Killed At Sand Ridge
Giant Anaconda Spotted In Calhoun (Well...)
Gas Leak Turns Out To Be Rattlesnake
Timber Rattler Now State Reptile
Blacksnakes Tangle On Barn Wall
Highway Workers Encounter Large Rattlesnake
What Do You Do When You Hear A Rattlin' Sound?