Amazing man Carl Jarvis died in 2012 at the age of 97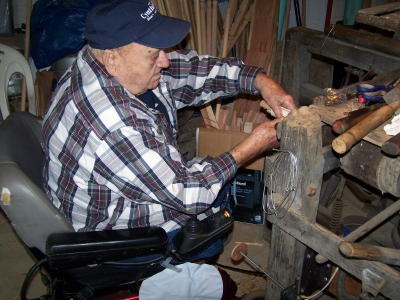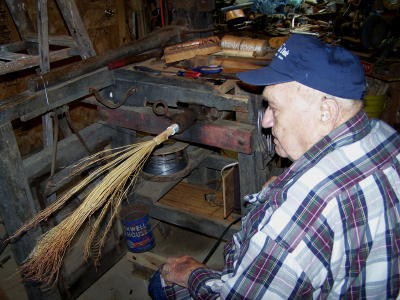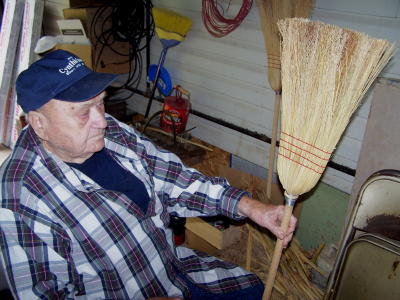 Carl Jarvis making brooms on a Civil War
era machine passed down by his family
By Bob Weaver 2010
Minnora, Meadow Run, resident Carl Jarvis, soon to strike 96 years, is a jack-of-all-trades and master of many.
His daughter, Beverly Harold, says "He keeps busier than a man half his age."
Bright-eyed and mentally alert, Carl's legacy is a life-time of achievement, a brittleness to work, provide and create, even into his 96th year.
"When I was growing up, I learned as many trades as I could," Carl said, mentioning mechanic, welder, heavy equipment operator, carpenter, and logger. In more recent years, Carl has become the creator and producer of useful items, a creative crafts-person.
One of his many activities is broom making, using a Civil War era broom making machine that has been in his family for several generations.
"Henry Parker, who lived on Meadow Run built the machine, and its' been in my family since grandfather Peter M. Parsons got it," said Carl.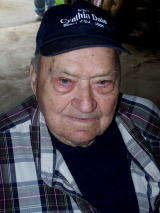 Carl (shown left) because of the amputation of his legs, has modified the treadle-driven broom machine so he can operate it, securing broom corn and making "brooms better than you can buy in the store."
He spoke of surviving the Great Depression - "No work for money existed in these parts. You raised what you eat, and eat what you raised. We always had plenty."
"It took a half-bushel of potatoes a day to feed our family. We berry picked, had apples and lots of grain to grind into flour, with hogs, cows and chickens to butcher."
The World War II veteran, who served in Guadalcanal, says he has outlived all his military buddies, and most of his lifetime acquaintances, saying it is a sadness experienced with aging.
"I still get up every day and face life and the opportunity it offers," he concluded.
Carl has three children, Beverly Harold of Chloe, Anita West of Mt. Zion and Randy Jarvis of Parkersburg.
See related stories
THE ORMA MOVIE HOUSE - Grandpa Jones, T-Texas Tyler And Bill Carlisle, Customers Came Ridin' Horses And Model Ts
THE REAL "SUNNY" CAL- Cal Jarvis Smilin' And Talkin', 300 Grandchildren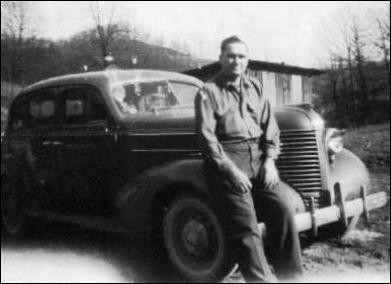 Carl's early days in Calhoun