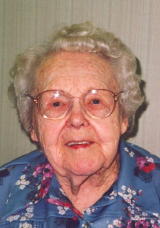 Nellie O. Mitchell, 100, of Asheville, NC, formerly of Spencer, West Virginia, died Sunday, May 24, 2009, in the Brooks-Howell Home, Asheville.

She was born Monday, August 31, 1908, at Spencer, the daughter of the late Charles and Margaret E. Santee Mitchell. In addition to her parents, she was preceded in death by two infant brothers; four brothers, Roscoe, Irvin, Walter and Ottie Mitchell; one sister, Lucy Grant.

Nellie was a deaconess in the United Methodist Church Ministries. She served in that capacity for 42 years. After a family member's illness, she came back to Spencer, where she conducted a church kindergarten in the St. John's United Methodist Church, for 16 years. She attended the Lucy Myer Training School for her deaconess training and later graduated from Morris Harvey College (now the University of Charleston) in 1950. Miss Mitchell was a member of the St. Paul's United Methodist Church, Asheville, NC and a former member of the St. John's UMC and Speed UMC.

Survivors include nieces and nephews; caregivers, Joe and Sheryl Pauley of Spencer; many friends who she has helped, mentored and encouraged, who will all love and miss her.

A funeral service will be held Thursday, May 28 at 1:00 p.m. in the John H. Taylor Funeral Home, Spencer, with the Rev. Randy Mitchell officiating. Burial will be in the Swank Cemetery, Speed.

Friends may call Wednesday from 6-8 p.m. at the funeral home.