WATER AS FAR AS THE EYE COULD SEE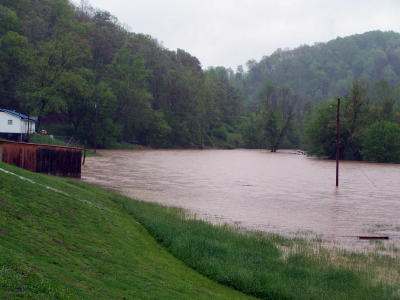 Water was hill to hill along Beech
yesterday, the water quickly rising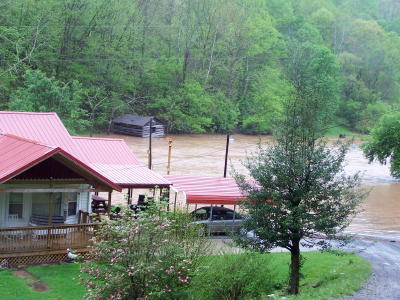 Water surrounds McKown resident mid-morning
2009
Oldtimers said yesterday's flood on Beech and Henry's Fork was the worst in many years.
Linda McCartney, who lives with husband Bob along the stream, said the water came up so fast they couldn't get out of their house.
Members of the Arnoldsburg and Grantsville Volunteer Fire Departments rescued them by motor boat yesterday afternoon. "Most of my things (on the the first floor) are destroyed," McCartney said.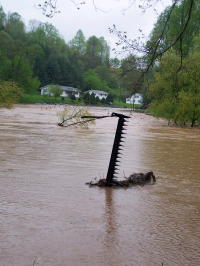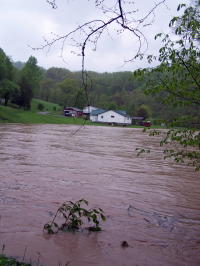 Flood water covered most of the flatland,
blocking roads, and getting into basements
Beech resident Bradley McKown said "It's pretty bad over here."
Frank Butler acknowledged it was the worst flooding in many years, water from hill to hill.
Henry's Fork resident Orville Waggoner said he believes the flooding was the worst since 1985.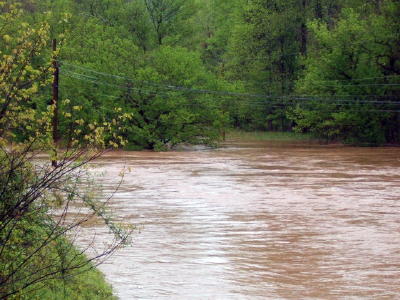 Henry's Fork was completely covered by
water most of day (Orville Waggoner Photo)