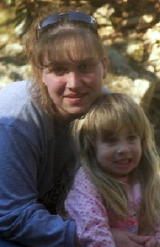 Amber Nichole Lamp, 24, of Big Springs, West Virginia, died Saturday, May 2, 2009.

She is survived by her daughter, Natessa N. Little of Big Springs: mother, Loretta Freshour; step-father, Boyd Richards; father, Joey Lamp; brother, Anthony Richards; maternal grandmother, Norma Freshour; paternal grandmother, Madeline Lamp; and great grandmother, Ocie Blanche Bell.

She was preceded in death by grandfathers, Harold Freshour and Jim Lamp, and great grandfather, Cecil Bell.

Funeral services will be held 1 p.m. Wednesday, May 6 at Stump Funeral Home, Grantsville. Rev. Carroll McCauley will officiate. Interment will be in Nobe Cemetery.

Visitation will be held one hour prior to the service on Wednesday.