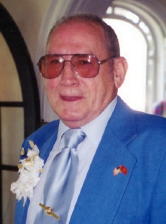 Larry Euell Stotts, Sr., 77, of Spencer, West Virginia, died Friday, May 1, 2009, at the home of his son, after an extended illness.

Mr. Stotts was born Tuesday, June 9, 1931, at Charleston, the son of the late Burl F. and Thelma Moore Stotts. In addition to his parents, he was preceded in death by his wife, Marilynn Stotts.

He was a Marine Corps veteran of the Korean War, with the distinction of being a member of The Chosin Few, the exclusive fraternity of honor consisting of those who served in the epic Chosin Reservoir Campaign in North Korea in 1950.

He was a life member of VFW Post 5783, Spencer, and past Post Quartermaster of the West Virginia VFW. He was a former deputy sheriff in Roane County and was a process server for Tom Evans, Esq. and Tom Whittier, Esq. Also, he was a former member of the Roane County Democrat Executive Committee.

Survivors include a son and daughter-in-law, Larry and Sandy Stotts, Jr. of Spencer; one grandson, Justin and Stephanie Stotts and great granddaughter, Sophie Stotts of Spencer; one granddaughter, Laura and Richard Rogers and great grandson, Richard "Tad" Rogers, III; one sister, Carol Music of Paintsville, Kentucky.

A funeral service will be held Monday, May 4 at 11:00 a.m. in the John H. Taylor Funeral Home, Spencer, with Pastor Bill Jones officiating. Burial, with military graveside rites, will be in the Clover Cemetery, Clover.

Friends may call Sunday from 6-8 p.m. at the funeral home.