The Hur Herald Goes Ghost Hunting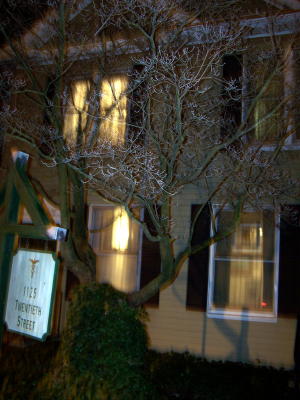 100-year-old house is hot spot of ghostly
activity, says Mountain State Paranormal
By Bob Weaver 2009
A Huntington West Virginia house has been the scene of ghostly apparitions, wistful voices and bumps in the night, a fascinating site for ghost hunters.
The 100-year-old site has been the office of dentist Dr. William Grimes since the 1970s, and the object of several ghost hunting groups.
"There's good reason for the interest," says Grantsville resident Kelly Bell, the founder of Mountain State Paranormal, whose group recently spent the night in the house using a full array of ghost detecting technology and skills.
"This case revealed the most activity of any investigation we've done to date," Bell said, who has a 10 year history of delving into the paranormal.
Dr. Grimes, who originally practiced dentistry with his father, said early-on they began to hear "loud, very loud noises, like somebody absolutely tearing the building apart."
"During the buildings renovations (in the 1970s) we began to hear and see things," Grimes said, including the presence of a young girl.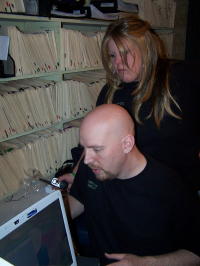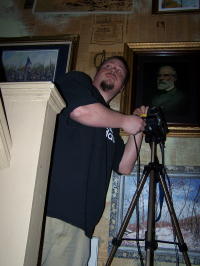 Kelly Bell (left) and one of several investigators hook
cameras and audio equipment to computers, one of 11-cameras
was installed in a stairwell which has lots of activity
A Mountain State Paranormal recording has the voice of a young girl saying, "He killed me," while a young male identifies himself as "Paco." The female, at one point asks, "Where's Paco?"
Bell said the group's equipment captured 78 EVPs (Electronic Voice Phenomenon), several with voice clarity, including a small child named Brittney identifying herself.
The group used 11 TV cameras and numerous audio recorders connected to computers. The cameras captured the silhouette of a man walking down a hallway and a child responding to questions by turning a light on and off.
Grimes and his office staff are accustomed to the ghosts, keeping a log book of incidents over the years, indicating the ghosts have always been benevolent.
The dentist ended up painting a portrait of one of the apparitions, Lavina Wall, who died of acute appendicitis in the 1920s.
Note: As a skeptic, we appreciated the opportunity to go ghost hunting with Mountain State Paranormal, certainly now aware of the hard work, sincere efforts and professionalism of the group, and not quite as skeptical. - Bob Weaver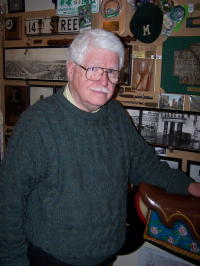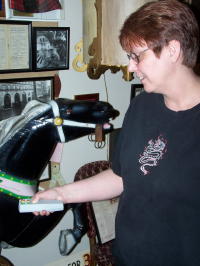 Dr. William Grimes (left) owner of site, has been recording activity for years, searching for hot spots inside the structure (right)