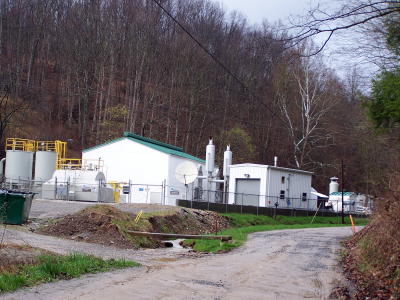 Orma compressor station roused Crooked Run residents early yesterday
Upper West Fork firemen responded to a Dominion compressor station on Crooked Run before 7 a.m. yesterday when residents said they smelled natural gas after being awakened by a roaring and banging-like sound.
Mattie Stump, who has lived on a hill near the Orma station for 30 years, said she was jolted from sleep about 2:30 a.m. "I knew it was the station. It was really loud and I started calling the company," she said.
Connie Summers, who lives on a hill opposite from Stump, said it was blowing off loudly every few seconds.
"It sounded like we were in a war," she said, "loud and a high pitched whistle along with the blowing off."
"After a few minutes, it would blow for about 30-45 seconds before starting up with the short ones again. The air outside smelled like gas," Summers said.
"I have lived beside that station for over 16 years, and I have never heard it do that as badly as it was this morning."
Bob Fulton, a pubic relations representative for Dominion in Clarksburg, told the Herald the problem was related to a steel ball being stuck in the line.
Fulton said the ball is inserted in transmission lines to push fluid through the line, a routine procedure.
"What happened here, the stuck ball caused a relief value to vent pressure," he said.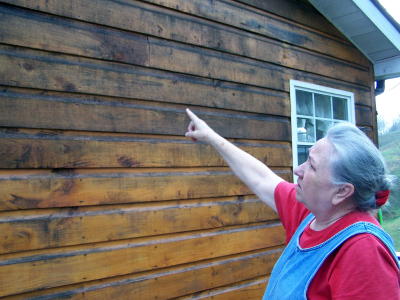 Mattie Stump says she has to frequently "wash down" her
house pointing to accumulated blackening on dwelling
Stump said it hasn't always been easy living by the station, saying it emits fumes that causes her house to turn black.
"We've complained a lot over the years, mostly because we're breathing the fumes," she said, "But it goes on.
The station, at one time, had an employee assigned to the operation. "Now its operated by computers, I guess," Stump said.