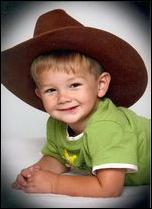 Nathaniel Lee Jones, age 2, of Clearfield, Kentucky went home to be with his heavenly father on Monday, March 30, 2009 at the St. Claire Regional Medical Center in Morehead, KY.

He was born August 9, 2006 in Charleston, WV to Tiea Renee Jones of Clearfield, KY.; and Donald Eugene May of Newton, WV.

Nathan was a cowboy who was afraid of nothing, and always had a smile. He loved his horses, cows, cats, dogs, firetrucks, four wheeler, trucks and cars.

He was preceded in death by, maternal great grandfather, James "Eddie" Jones; and paternal great grandparents, Ronel May, and Herby and Emma Gray.

In addition to his mom and dad he is survived by, a sister, Taylor May of Newton; maternal grandparents, James Edward Jones II of Point Pleasant, WV; and Donna Jean (Stanley) Jones of Gandeeville, WV; paternal grandparents, Eugene and Patty May of Spencer, WV; and Jannetta A. "Sue" May of Lefthand, WV; maternal great grandparents, Amy Deloris Jones of Point Pleasant; and Coy and Ruth Nicholas of Lefthand, WV; paternal great grandparents, Elva May of Spencer; his mother's companion, Brian Gallagher and his children, Colby and Brianna Gallagher of Clearfield, KY; and special friends, Hanna Paige Batten, Brody Layne Batten, and Cheyanne Mynhier.

Funeral services were held Friday, April 3, 2009 at the Wilcoxen Funeral Home, Point Pleasant, with Pastor James Ellis officiating. Burial was in the Snodgrass Cemetery at Lefthand, WV.