Orlie M. Rhodes, 100 - Leroy
(03/24/2009)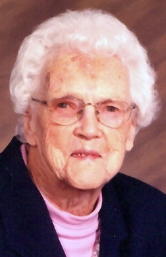 Orlie M. Rhodes, 100, of Leroy, West Virginia, died Monday, March 23, 2009, in the Jackson General Hospital, Ripley. In addition to her parents, she was preceded in death by her husband, Lonnie Rhodes; children, Frances Norman, Clarsie Sawyer, Kathryn Rhodes, Darrell Rhodes and Jarrell Rhodes.

Mrs. Rhodes was a homemaker and member of the Wolfe Valley Baptist Church at Vicars.

Survivors include her children and their spouses, Garnet and Ellis Kee of Dunbar, Robert and Beulah Rhodes of Gandeeville, Lula DeLay of Parkersburg, Arnold and Paulette Rhodes of Leroy, Ronald and Cathy Rhodes of Parsons, KS, Garland and Kate Rhodes and Roger and Sue Rhodes, all of Niles, MI; 23 grandchildren, 40 great grandchildren, and 15 great-great grandchildren.

A funeral service will be held Friday, March 27 at 1:00 pm. in the John H. Taylor Funeral Home, Spencer, with the Rev. Oris Harper officiating. Burial will be in the Hunt Cemetery, Vicars.

Friends may call from 6-8 p.m. Thursday at the funeral home.