J&B NOW HAS A SEVENTY FOUR HISTORY (2022)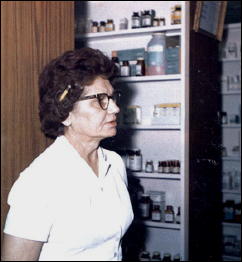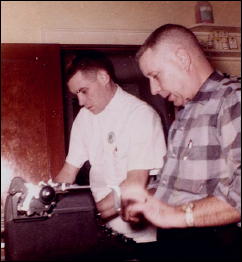 Millie Jarvis - After the store burned in 1966, Dick Jarvis
and Bill Morrison went back to work filling prescriptions.
From the original Hur Herald - October 18, 2000
The J & B Drug Store is one of Grantsville's most viable businesses, surviving and growing for 74 years. It has been around long enough to be a place of memories, mostly because of the snack bar that was frequented daily by most of the folks in town. "It was a meeting of the minds every day, with lots of laughs," said Pharmacist Dick Jarvis.
Madeline Lynch was a long-time "soda jerk" at the store, often working behind the counter between 1953 and 1995, when she actually retired.
"It was like home. I spent two-thirds of my life there. Millie was wonderful to me," she said. "The store often stayed opened, sometimes until 11 p.m. when the movie was out. Parents would loaf in the drugstore while their kids would go to the Kanawha Theatre. People really crowded into town. It was like parade day every evening."
Lynch, now deceased, said it was a place where dozens and dozens of girls got their first job. "I trained lots of girls for the soda fountain," she recalled. She started naming the "drugstore cowboys" and daily visitors of her recollection, but stopped. "I'm afraid I would forget someone." She said women would come in the afternoon to the "Women's Club."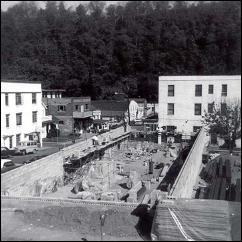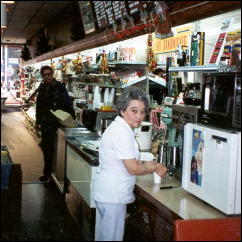 Building a new J&B after the 1966 fire; Madeline
Lynch managed soda fountain for over 30 years.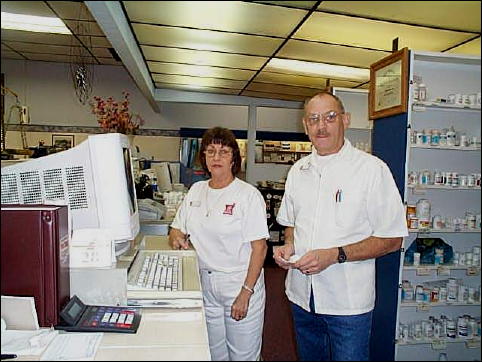 Dick and Edna Jarvis
Dick started dating Edna Frederick at the store. "The rest is history," she said.
The business started in 1948 when the old Thompson Drug Store (located in the area of Rick Jarvis' NAPA store) went up for sale and was purchased by Richard's father, Duke Jarvis and Drs. Robert and John Boling. In 1950 Dr. Bob Boling died and his interest was sold to Pharmacist Bill Morrison, a mainstay at the store for many years until his retirement. "He still comes by most every day," says Dick.
In 1953 Lawrence "Duke" Jarvis tragically died in a fire on "Duck Alley" and his ownership was assumed by his wife Millie. In 1955 the store purchased the assets of the Grantsville Drug Company (J. B. "Doc" Smith) and by 1958, Dick Jarvis came back from WVU, a registered pharmacist. First located in the Poling Building, the store was moved to the closed Kanawha Theatre site nearby. That building burned to the ground in the Grantsville fire of 1966.
The new store, the current location, was built and opened ten months later. "Dick and Bill moved across the street the morning after the fire and continued to fill prescriptions, not missing a beat," said a store employee.
"The store has been broken into at least twice," said Jarvis, who is a retired full Col. with the army reserves. In 1969 the safe was cracked and $4500 in old coins taken.
"Business is better than ever," said Jarvis. "We've tried really hard to help people and give them good service over the years." Jarvis said it has been a great experience. "We have always kept faith in the community." BW - www.hurherald.com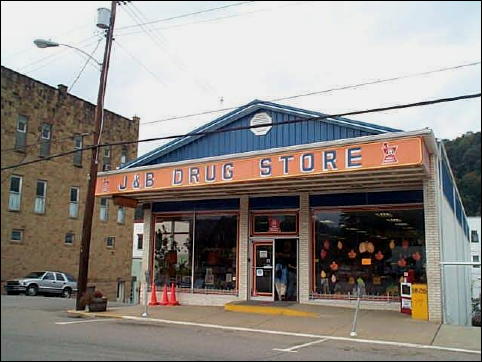 Drug Store recently received a new roof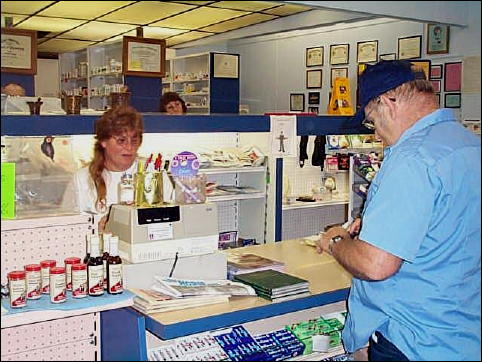 Cheryl Greathouse helps a customer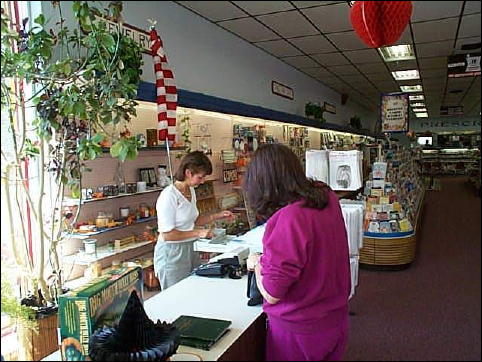 Leisa Prunty helps customer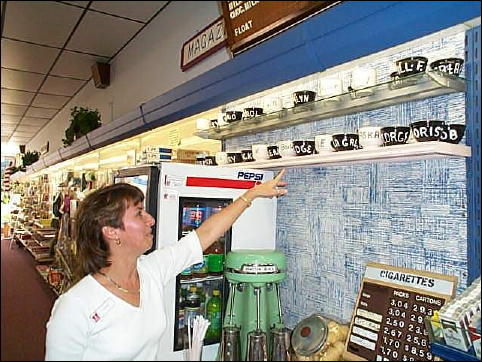 Coffee cups belonging to the "old regulars"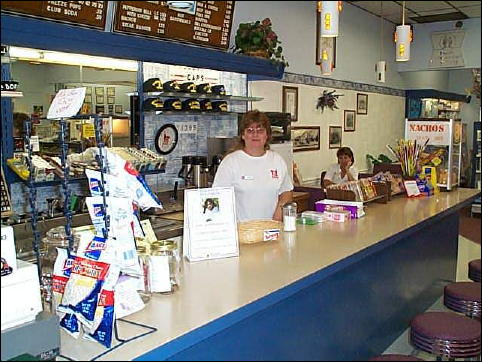 Cheryl Greathouse and Judy Hall in background