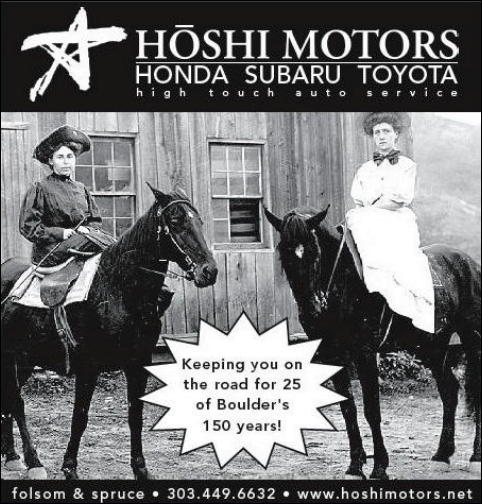 Boulder, Colorado Newspaper Ad features Velma Fay Oles Hardman (L)
and Eva Blendalena Dye Hathaway (R) about 1908-1909 in Grantsville
2010
Former Calhouner David Hathaway, now deceased, said "My oldest son Phillip has been affiliated with Hoshi Motors in Boulder most of his adult life. He is the father of our only granddaughter who he named after my mother Eva (Eva Dye Hathaway)."
Eva was the daughter of the late Dr. W. T. W. and Sophia Rogers Dye, and wife of the late Frederick S. Hathaway,
"I thought you might enjoy seeing this ad, which includes a picture of my mother on horseback in Calhoun when she was probably twenty years old."
"It is a photo I cherish and I believe you ran it on the Hur Herald several years ago."
My mother would be amazed that her picture would or could possibly get such exposure."
"It is a marvelous age in which we live, despite our current problems," concludes Hathaway.