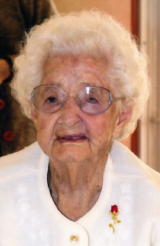 Beulah Smith, 100, of Looneyville, West Virginia, died Saturday, March 7, 2009, in the Laurel Nursing and Rehabilitation Center, Ivydale, after a short illness.

She was born November 26, 1908, at Stringtown, a daughter of the late Walter and Leota Anderson Westfall. In addition to her parents, she was preceded in death by her husband, the Rev. Dennis Smith; granddaughter, Sherri Lynn Smith; sisters, Opal Groves, Mabel Carper, and Olive Tabor; brother, Pete Westfall.

Mrs. Smith was a homemaker, a long-time member of the Johnson Creek Baptist Church, Looneyville, and a lifelong resident of Roane County.

Survivors include two daughters, Nadine Witte (wife of the late Leon Witte) of Parkersburg, and Emogene and Paul Delmas Tingler of Williamstown; sons, Jack and Ina Jean Smith and Jarrett and Sharon Smith, all of Newton; 12 grandchildren; 31 great grandchildren; several nieces and nephews; and special caregiver, granddaughter, Sharon Smith.

A funeral service will be held Tuesday, March 10 at 1:00 p.m. in the John H. Taylor Funeral Home, Spencer, with the Rev. Anthony Ferrebee officiating. Burial will be in the J. Herbert Smith Family Cemetery, Vineyard Ridge, Looneyville.

Friends may call at the funeral home Monday from 6-9 p.m.

In lieu of flowers, the family requests donations be made to the Johnson Creek Baptist Church Building Fund, 537 Lewis Station Road, Clendenin, WV 25045.