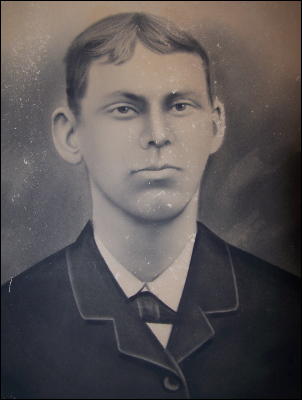 James Sturm, age 20 (above) was murdered by Sam Sickles
on Sycamore about 1886 among the county's earlier
murder cases to go to trial (Photo courtesy of Olen Siers)
By Bob Weaver
A Calhoun news account before 1890 says the Sycamore community has had some unfortunate events, including the murder of 20-year-old James Sturm, son of John and Mary Sturm.
Sturm died at the hands of one Sam Sickles, following a fight near the Hathaway School on Sycamore.
Sam Sickles was aided in the murder by his father, James.
Reports said the Sickles' were "settling an old feud."
Young Sickles stabbed Sturm through the lung, while the old man beat the boy with a club, according to a New York Times article in 1886.
Sturms died in less than a minute.
The Sickles' escaped, but were captured and sent to jail.
The NY Times article says, "Great indignation was manifested at the outrage, and threats against the Sickles' were made, but the excitement was allayed by promoises of a speedy trial."
The Times, reporting on June 18, 1886, said, "A few nights ago a party of 30 men, disguised by having sheets, quilts and blankets thrown over their heads with peepholes cut in them, rode into Grantsville and proceeded to the office of Reece Blizzard, attorney for the Sickleses, left a note on the front door informing the lawyer that unless the culprints were tried at the term of court which began (today), they would be hanged to the nearest treet."
Sickles was given a trial by jury, after which he was sentenced to 15 years in the state penitentiary.
A news story concluded "From the knowledge we have of that community [Sycamore] we believe a large majority of the citizens are honest and law abiding."
"But no good citizen nor any number of them can prevent men who are quarrelsome from settling their feuds as they please," a newspaper account said.
NEWS ACCOUNTS: CALHOUN CHRONICLE
MURDER ACCESSORY RETURNS To CALHOUN IN 1899
Transcribed by Norma Knotts Shaffer
Jim Sickles, who has been supposed to be dead for some time, was here one night last week. He is the same Jim Sickles who was an accessory to the death of Jim Sturm several years ago, for which he was sentenced to the penitentiary for fifteen years, but was pardoned after four or five years. Possibly he took a look and winked at the grave of his victim in passing through the country.