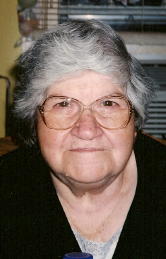 Goldie Emogene Starcher Greathouse, 81, of Mt. Zion, West Virginia went peacefully into the loving arms of Jesus March, 2, 2009 surrounded by her loving family.

Goldie was born June 10, 1927 at Hur, WV to the late Grover and Rosa Adams Starcher. She enjoyed her family, quilting, cooking big family meals, gardening, canning, and gospel music.

She is survived by her children, Roger (Barbara) Starcher, Richard (Teresa) Starcher, Linda (Danny) Carpenter, Debbie Sampson, Judy (Danny) Hall, Arnold Greathouse, and Ronald (Cindy) Greathouse; sister, Lula Hughes; and brother, Holly Starcher.

Also surviving are grandchildren, Robert Starcher, Lisa (Matt) Sargent, Kristy (Jeff) Toney, Renee (Jason) Perkins, Keith Carpenter, Jessica Ferguson, Stacy (John) Hicks, Alicia and Brittany Greathouse; great grandchildren, Tyler and Nick Sargent, Mikayla, Kaitlyn, and Jacob Toney, Madison Perkins, Garrett Carpenter; extended family, Cathy Harvey and children Brian, Paul and Lisa, Cheryl Chunko, Kyerstan Garrett, Lily Whited, Chad Ferguson, Russell McCumbers, and Curt Lemon; several nieces and nephews, and special friends.

In addition to her parents she was preceded in death by her husband, Lewis Greathouse; son, Donald Starcher; grandson, Josh Hall; sisters, Lucy Bollinger and Hazel Hughes; and an infant brother, Thomas Starcher.

Funeral services will be held, 1 p.m. Thursday, March 5 at Stump Funeral Home, Grantsville. Rev. Roger Carter and Rev. Delmas Stutler will officiate. Interment will be in the St. Paul Cemetery.

Friends may call at the funeral home from 6 to 9 p.m. Wednesday.