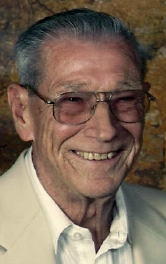 Euel L. Roberts, born March 10, 1932 in Kanawha County, West Virginia, passed away at his residence, February 25, 2009 following an extended illness.

He served in the United States Army from August 25, 1948 to July 25, 1950. He served in occupied Germany with the 24th constabulary specialize unit of police, occupying the borders between the American and Russian zone. He was recalled to duty October 1, 1950 and served until July 1951. He served in Korea in the 24th infantry division, and was wounded in combat, receiving five purple hearts and other metals. He then became a licensed ordained minister in 1953-1958.

Mr. Roberts moved to Florida in 1961 where he went to work for the Indialantic Police Department as a Lieutenant until January 1966. He went to work at the Brevard County Sheriffs Department until February 1969. He took the Chief of Police job at Melbourne Beach until a disability retirement in March 1982. He moved to Elizabeth, West Virginia. He was a disabled veteran, a member of the Scottish Rite 32 for 40 years and Azon Shrine in Florida, and a member of the V.F.W.

He leaves behind his wife, Peggy Jo (Withrow) Roberts of 45 years. "This to my three children whom I love equally, Charles E. Roberts, Joseph L. Roberts, and Joyce Ann Roberts-McGraw, I want you to live your life fully."

"To my grandchildren, Heather and Brittany Roberts, Michelle and Jonah Roberts, Megan and Taylor Stansberry, Paige and Paris Ann McGraw, and great grandchild, Izik Stansberry, Goodbye, I love you all very much."

Also surviving, sister, Anna Mae Holstein of Belle, WV; and brother, Lonnie Martin of Dunbar, WV.

He was preceded in death by his mother Sadie Ellen Martin and a brother Henry L. Edens.

At Euel's request he will be cremated and no funeral services will be held.

Matheny-Whited Funeral Home of Elizabeth, WV is in charge of arrangements.